Hertford images and attractions – Part 3
Click here to return to attractions in Hertford Part 2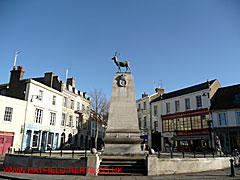 War Memorial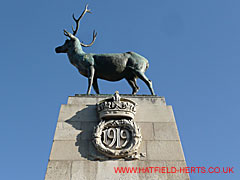 War Memorial sculpture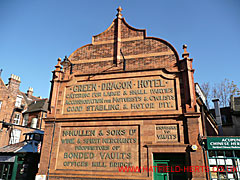 Green Dragon Hotel – another of the McMullen buildings in the town
Castle Hall – entertainment venue
'Five Bishops' sculpture on Castle Hall – commemorates the 13th Centenary of the First General Synod of the All England Church in 673 AD. Designed by Ronald Pope in 1973.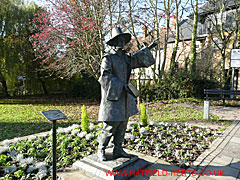 Reverend Samuel Stone statue – Hertford Millennium sculpture 1999. Commemorates the Reverend Samuel Stone, born in Hertford in 1602, one of the co-founders of Hartford, Connecticut, USA.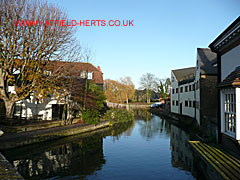 River Lea from Mill Bridge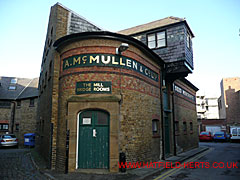 The Mill Bridge Rooms – A McMullen & Co Ltd
Lombard House – home of Sir Henry Chauncy, historian, JP and barrister (and now a private club). His history of Hertfordshire was used as a reference by Hatfield's first historian, Reverend Jocelyn James Antrobus.
Click here for Hatfield Historians feature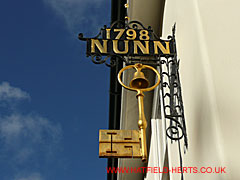 Hertford Museum, Bull Plain – the building dates back to 1610 although it has an 18th Century exterior (the sign belongs to an ironmonger). At the time of writing (December 2009) the museum is closed for renovations.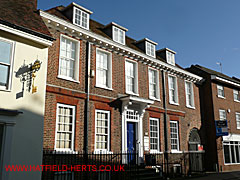 Beadle House, Bull Plain – Queen Anne Period building belonging to the Dimsdale family (a local family of repute).
Confluence sculpture, Salisbury Square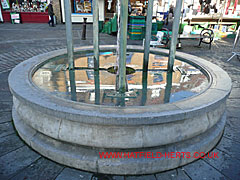 Confluence sculpture – it represents the meeting of the four rivers of Hertford.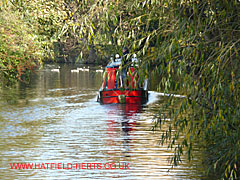 Longboat near Folly Island
Sites of interest not shown include Richard Hale School (originally founded on 16 April 1617); Friends Meeting House (Quakers); County Hall and All Saints Church.
Click here to return to attractions in Hertford Part 2
Back to: Leisure days out – Hertford