Hertford images and attractions – Part 2
Click here to return to attractions in Hertford Part 1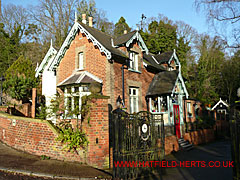 The Warren Meadows Lodge and Gates – off the B158 on the high ground North of the town centre. Offers a route to a riverside walk.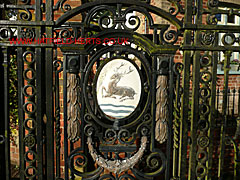 The Warren Meadows Gate – showing some of the detailed metalwork and Hertford crest. The lodge and cottages were presented to the town by Philip Raynsford Longmore.
Footbridge across the River Beane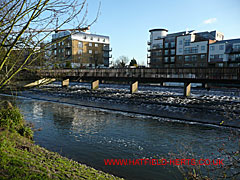 Weir and footbridge near Folly Island
Top of the weir and footbridge from the opposite side – the mooring for long boats can be seen to the right.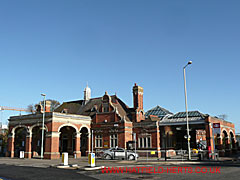 Hertford East Railway Station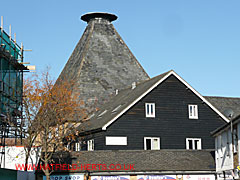 Roof of an old Malthouse – now in use as a guesthouse.
Entrance to Bluecoats Avenue – site originally built for Christ's Hospital (a school for London's poor children founded in 1552 by King Edward VI and known as Bluecoats after the robes worn by pupils). Following the school's evacuation due to the Great Fire of London in 1666, and the intervention of Sir Henry Chauncy (a local barrister and historian), a self contained boarding school was built here (the oldest buildings on the site date back to 1695). In 1778 Christ's Hospital Girls' School was also established on site. In 1902 Christ's Hospital - London and the Boys based at Hertford moved to a merged premises in Horsham. The vacated premises in Hertford was developed as the Writing School for Girls. Once Christ Hospital Girls' School moved to Horsham in 1985 the site was turned into shops, offices and housing.
Crest mounted on the exterior wall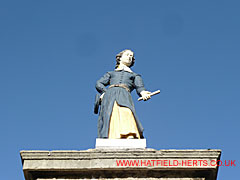 Close up of figure on gatepost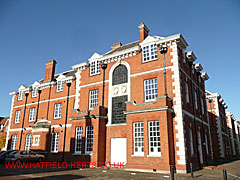 Salisbury House – one of the buildings lining the left side of Bluecoats Avenue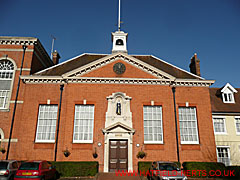 Former Writing School building – located at the end of Bluecoats Avenue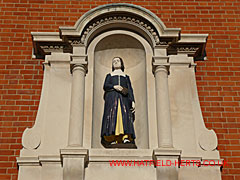 Close up of figure above the doorway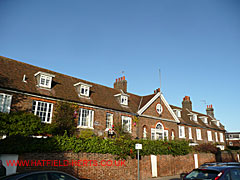 Original Girls' School building, Fore Street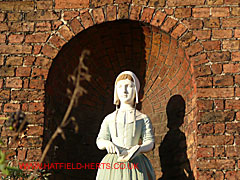 Close up of one of the two figures decorating the Girls' School exterior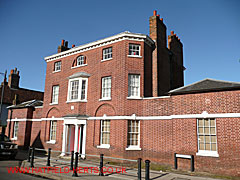 Red House, Fore Street – another part of the Bluecoats complex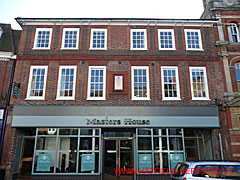 The Master's House – built around 1725 and replaced an earlier structure dating to 1617. Both were used to house the Master and Boarders of Richard Hale's Hertford Grammar School till 1900. Richard Hale was a local wealthy merchant thought to have roots in Kent.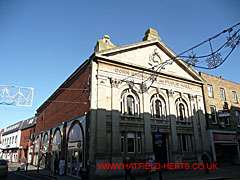 Corn Exchange and Public Hall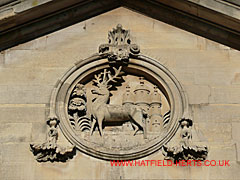 Emblem on the Corn Exchange and Public Hall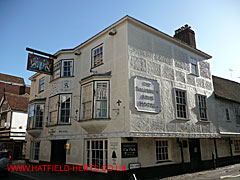 The Salisbury Arms pub and hotel – known as The Bell before 1800 (date on the front of the building is 1570). Its exterior, particularly the side along Bell Lane, has some elaborate plaster decoration (pargetting).
Shire Hall – designed by James Adam in 1769. Currently in use as Magistrates Courts
Shire Hall clock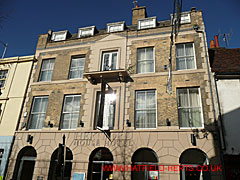 Hertford House Hotel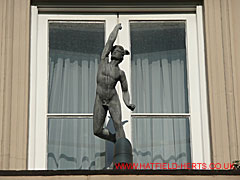 Statue on Hertford House Hotel
Click here for attractions in Hertford Part 3
Click here to return to attractions in Hertford Part 1
Back to: Leisure days out – Hertford