Hertford
Hertford is the County town for Hertfordshire. It is strategically located with no fewer than four rivers – Beane, Lea (also spelt Lee), Mimram, and Rib – flowing through the town. It became a fortified Saxon town under King Edward the Elder, son of Alfred the Great, in 912 AD.
Many old buildings have survived in Hertford and exploring the town can be an interesting and rewarding experience. Hertford Castle is centuries old and has a very colourful history. Parts of the ancient castle walls survive although the centrepiece building that is called Hertford Castle today is said to be the gatehouse. The town has a many shops and boutiques, several pubs, a museum (closed for renovations at the time of writing), a brewery, and a number of riverside walks.
Next to County Hall is the Hertfordshire Library & Archive Service (HALS), which contains many fascinating historical maps and documents (although to access some you will need to register / book ahead so please check the requirements in advance).
Hertford also boasts two railway stations with rail links to London Liverpool Street and Moorgate.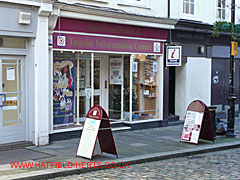 Tourist Information Office
10 Market Place
Of particular use to those interested in sightseeing is the tourist information office. It is located in the Gravesons building on a cobbled street behind Shire Hall (easily recognised by its impressive protruding clock) which is opposite The Salisbury Arms on Fore Street. The office supplies information not only on Hertford but other major UK tourist destinations and attractions.
Among the famous people linked to the city are: Queen Elizabeth I; St Theodore of Canterbury, first Primate (archbishop) of the English Church; Sir Henry Chauncy, historian; Captain W E Johns, creator of Biggles; Alfred Russell Wallace, naturalist, author and scientist. The Cecil family of Hatfield House have been closely linked to the town since the 17th Century.
Click here for more on attractions in Hertford
Back to: Days out from Hatfield