Collections – Diecast vehicles
Originally designed as inexpensive toys, there is a growing collectors market for diecast vehicles. Newer products aimed at collectors tend to have a greater level of detail and are prized for their degree of realism with the full-size real vehicle – and packaged and priced to match. However, the original inexpensive toys in mint condition and with their packaging can command very high prices from collectors.
Karl Benz made the world's first successful petrol-engine car in 1885. However, it was Henry Ford's Model T, first rolled out in October 1908, that was successfully mass produced (starting in Michigan from October 1913) which made the car a common sight.
Not surprisingly, it wasn't long before small replicas of these 'horseless carriages' were being made as children's toys. Initially, they were made out of wood, then with metal plates or sheets painted and folded into somewhat crude replicas.
Military toys have been favourite with children and toymakers for centuries, and diecast vehicles were no exception. However, during WWII metal toys were banned due the shortage of raw materials (the ban was only lifted in 1946). The factories that produced toys with their diecasting machines were now put to work creating munitions for the war effort.
Diecast vehicles are named after the metalworking process originally used to make them. Molten melt is forced under pressure into a mould (or die), cooled to allow it to solidify and then ejected (a similar process is used for plastic but is called injection moulding). Although some of the early vehicles were made from Lead (a favourite material used for early toy soldiers), most pre-war makers used an alloy called Mazak, which was 96% Zinc (with Aluminium, Copper and Magnesium). Modern miniature vehicles often use a mix of materials – metal bodies, plastic for interiors and windows, rubber tyres and cut glass or plastic headlights.
Credit for the first diecast car toy goes to the Dowst Brothers (Samuel and Charles) of Chicago, USA, who founded Tootsietoy (Tootsie was Charles' granddaughter). They produced their first diecast car in 1911 (but they had made diecast metal novelties as early as the 1890s), and their version of a Model T in 1917 – possibly the first diecast replica car.
In Europe, makers like France's Solido and Germany's Marklin made their own diecast vehicles. However, worldwide success appears to belong to Britain, largely thanks to the efforts and ingenuity of one man – Frank Hornby.
Frank Hornby – Britain's toy making king
Born in Liverpool on 15 May 1863, he was educated at state schools and became a shipping clerk. A role he held at several companies till he was in his late Thirties.
In his obituary The Times reported that it was while he was on the train travelling from London to Birmingham one Christmas Eve, to spend the festive season with a relative that had young children, that he had the inspiration that was to make his fortune. He had been wondering how to amuse the children when the train passed a crane at a goods yard. He decided to make a crane for the kids out of strips of steel. Developing the idea he created Meccano (originally called Mechanics Made Easy).
He got his first patent in 1901 and registered his company, Meccano Limited, in 1907 (some sources state 1908). Within a few years there were manufacturing plants in France, Germany, Spain and the USA.
He founded Meccano Magazine – promoting his products and at the same time providing technological news and information to children – in 1916 (it lasted for over 50 years and was published in 17 languages worldwide).
In 1920, Meccano Limited produced the first Hornby model trains, which grew into a separate company.
In 1923, they launched a range of railway accessories to go with the train sets.
In 1931, they launched Modelled Miniatures – the first set consisted of six station staff. The first to feature vehicles was No.22.
That same year, Frank Hornby was elected to Parliament as the Conservative MP for the Everton division of Liverpool.
April 1934, Modelled Miniatures (also known as Meccano Miniatures) was renamed Dinky Toys.
1935, Frank Hornby stands down as an MP due to the demands of business (the Binns Road factory in Liverpool alone covered some five acres and employed 1,500 people) and his own failing health.
21 September 1936, Frank Hornby died following an operation at the Northern Hospital, Liverpool at the age of 73.
His name, products, and most of all the joy he brought to millions of children (and many adults) worldwide lives on.
Diecast Hatfield
There are a number of diecast vehicles, from different makers, that are linked to Hatfield.
Perhaps not chronologically first but the company with the closest links to Hatfield is toy makers Lone Star. Originally, set up in North London as DCMT (Die Cast Machine Tools), their business was originally selling diecasting machines. Among their customers were Leslie Smith and his school friend and naval colleague Rodney Smith. After WWII, Leslie and Rodney set up Lesney Products, which became famous for their Matchbox range of diecast vehicles.
However, it was probably Frank Hornby's Dinky cars, along with bulk orders from trade customers, that prompted DCMT to start its own diecast vehicle and toy range. However, it proved to be so successful that the company set up Lone Star as a separate company.
In 1956 it opened a factory in Hatfield (which later also became its head office).
While successful, Lone Star did not achieve the level of brand recognition that Dinky, Corgi and Matchbox did. Perhaps due to the way they marketed and packaged their products using range names like Impy, Roadmasters (originally spelt Road-masters), Impy Flyers, Tuf-Tots and Farmer's Boy.
Further information on Lone Star can be found under Claims to Fame – Toys.

Made in Hatfield – and as it appears to be almost entirely plastic this Lone Star Dune Buggy (No.533 Monterey) is probably more injection moulded than diecast. One of a short-lived series of six they were only made between 1970-72.
Please note: it is generally not this easy to identify Lone Star products made in Hatfield as often the manufacturing process meant components could be made in one (or both) of the other factories and finished in the third. Products were usually simply marked Made in England.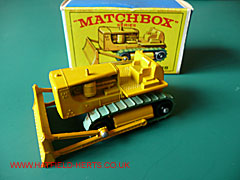 Matchbox series, No.18 – Caterpillar Bulldozer. Hatfield-based Jack Olding & Company were Caterpillar's sole UK agents. As previously mentioned, Leslie Smith and his school friend and naval colleague Rodney Smith set up Lesney Products after WWII (Leslie Smith had a distinguished career commanding a torpedo boat during the Dieppe Raid and a minesweeper during the D-Day landings). They were soon joined by Jack Odell who had worked at DCMT (he later set up his own company using his name spelt backwards – Lledo). Rodney Smith left the company in 1951 – around the time the Korean War was causing a shortage of raw material and threatening the young company's existence – and missed the company's glory days.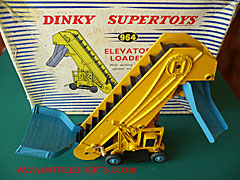 Dinky Supertoys, No.964 – Barber-Greene Olding Elevator Loader. The bottom scoop raises and lowers, the rotating rubber 'grain elevator' is made from rubber and the top chute swivels. Barber-Green is an American company which formed a joint venture with Jack Olding. The grain elevator was just one of a number of agricultural and utility vehicles the company sold and serviced (and sometimes made). Dinky Supertoys were large scale replicas and the range was launched in 1947.
Close up of the bottom scoop – for the benefit of people using a screen reader it is marked (in raised lettering): Dinky Supertoys, 964, Barber-Greene Olding, Elevator Loader, Made in England, Meccano Ltd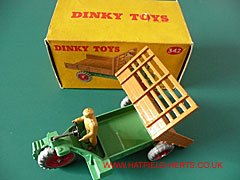 Dinky Toys, No.342 – Motocart. The Opperman Motocart was originally made by Hertfordshire based S E Opperman and Co. It was marketed by Jack Olding & Company, who later appear to have taken over making them as well. The diecast version was originally priced as 4/3 – 4 shillings and 3 pence (23p in today's decimal currency)
Further information on Jack Olding & Company can be found under Features.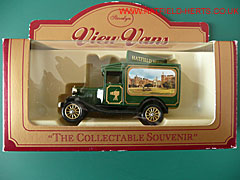 Stevelyn View Vans – range of souvenir and promotional vehicles produced by Stevelyn & Company. The example shown features has the Hatfield House name on top and a picture of it on the side panels. Although information on the box refers to the company being in Watford, it appears to have since moved to Rugeley in Staffordshire. While the actual range of vehicles is small (and includes a souvenir bus), the main variation is the subject featured (which ranges from Buckingham Palace, the Mosquito Aircraft Museum to EastEnders and Isle of Man Post Office stamps). The actual diecast models were made in England by Lledo, a company founded by Jack Odell (real name John William Odell). Jack Odell, who was an expert toolmaker and model maker, left DCMT to join the Lesney board in 1947. He founded Lledo in 1983 after Lesney was sold the previous year.
Click here for Diecast vehicles – Part 2
Back to: Hobbies and Collections