Jack Olding of Mayfair and Caterpillar Island, Hatfield
The history of Hatfield would not be complete without mention of Jack Olding. He made a significant contribution to the war effort and to post-war British agriculture and industry. Yet, apart from a street name (without a name board – at the time of writing), he appears to have been largely forgotten.
Jack Olding or to give him his real name Henry John Douglas Olding was born on 12 January 1892 in Wiltshire. His father, Edmund Pinniger Olding, was a farm bailiff who married Blanche Martha Olding (nee Jaffray).
Without further research it is not possible to give details about his education and schooling; however, he is known to have served in World War I (there is a medal record for a Sergeant John D Olding of the ASC dated 29 September 1915).
Following his return he appears to have started off in the motor trade with an advertisement in The Times on 18 August 1921 (offering a Rolls-Royce "at the ridiculously low figure of £325 owing to the owner leaving for India"). His address being given as 5 Harsop-Road, Cricklewood, NW2 (London).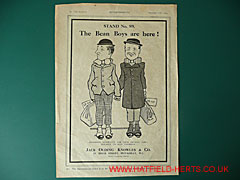 At presumably a later stage, he formed a motorcar agents and dealership called Jack Olding, Knowles & Co, based at 19 Brick Street, Piccadilly, together with T Knowles and H Young. This partnership was formally dissolved on Friday, 30 October 1927.
The picture shows a 1924 ad for Jack Olding, Knowles & Co.
From his early days he seems to have concentrated on the luxury side of the motor trade.
Jack Olding & Co Ltd of North Audley Street, Mayfair, were contracted as the 'sole' London dealer for Aston Martin from 1931-33, and supported Aston Martin staff at the Olympia Motor Show in those years. By 1933, the London market had expanded to include at least three other companies.
Apart from Rolls-Royce and Aston Martin cars, the company also traded Bentleys.
The company later diversified into earth-moving and farm equipment. Jack Olding & Co were dealers for John Deere tractors and heavy plant for the Republic of Ireland, southern England and Wales between 1937-1950.
The company became sole agents for US company Caterpillar in England and established their headquarters in Hatfield in 1939. The impressive art deco headquarters and factory was called Caterpillar Island.
Jack Olding and Company's role in WWII
"Four other pieces of equipment that most senior officers came to regard as among the most vital to our success in Africa and Europe were the bulldozer, the jeep, the 2.5 ton truck, and the C-47 airplane. Curiously, none of these is designed for combat…"
- Dwight D Eisenhower, Crusade in Europe
The role of the bulldozer during World War II has been largely unheralded. However, Caterpillar D-series bulldozers in particular were used by the Royal Engineers in most, if not all, major land campaigns – starting with Norway and the BEF (British Expeditionary Force) in France in 1940. While they were also used by the 79th Armoured Division during D-Day and the subsequent breakout, their status as 'Hobart's Funnies' is debated – as armoured bulldozers were apparently used earlier in the war (however, an example is shown clearly on Panel 6 of the Overlord Embroidery – which can be seen at the D-Day Museum in Portsmouth), and they were also used on the American beaches (Utah and Omaha). On a number of occasions, the bulldozers played a critical role in combat – especially when purpose-built 'funnies' had been knocked out of action.
Two specially adapted bulldozers were used to push beached landing craft back into the water – speeding up the flow of men and material and reducing the risk of casualties (however, it is not clear where the modifications were carried out or by whom).
Bulldozers weren't the only heavy equipment used. Other heavy plant like graders and scrapers were also used to build roads, bases and fortifications – and create a channel so the sections of Mulberry harbour could be floated across to France.
Jack Olding & Company established, at no cost to the British taxpayer, a heavy plant school to train military personnel to use Caterpillar equipment. This was later replaced by a formal RAF Airfield Construction training establishment at what became RAF Mill Green.
Royal Engineers personnel continued to gain valuable training and experience working at Jack Oldings' Hatfield factory.
The factory was also used to ready imported tanks, shipped across from North America, for frontline deployment. Among the types readied at Hatfield were American-built Sherman and Grant tanks, and Canadian-built Ram tanks. Work was also carried out on British-built Churchill tanks.
Technical author Maurice H Sanders revealed that Jack Olding & Company were involved in the development of Britain's first dozer tank, and also introduced the tournapull (a type of earthmoving vehicle).
Jack Olding & Company also played a key role on the home front – Caterpillar and John Deere tractors and other farming equipment helped feed Britain, Also, at a time when labour was in short supply, it enabled women of the Land Army to take over and release more men for frontline roles.
Apart from food production, another critical material for the war effort that the company helped in the production of was timber – due to the u-boat menace imports were cutback.
Around this time, Jack Olding also became a racehorse owner in a small way. Later (around 1952 – the year he turned sixty), it became his main interest – most probably he turned to the turf after retiring.
John Deere
John Deere was an American blacksmith who founded Deere & Company in 1837. From a one man concern it has grown into a global business that today employs some 56,000 people worldwide.
The John Deere leaping deer logo has been used for around 120 years and has been redesigned several times. While its distinctive green and yellow paint scheme is known to date back to at least 1905.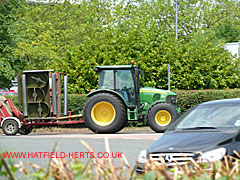 Jack Olding and Company were dealers for John Deere tractors and heavy plant for the Republic of Ireland, southern England and Wales between 1937-1950.
Today, although there are no longer any direct company links with Hatfield, John Deere vehicles can still be seen around the town and surrounding countryside as the photos used in this section show.
Rebuilding Britain
Post-war, Britain was near bankrupt and controls on foreign exchange, particularly the US dollar, were introduced. This is thought to be the prime reason for Jack Olding ending his Caterpillar dealership (reputedly the only Caterpillar dealer to have ever done so voluntarily), and John Deere dealership. However, another school of thought is that Jack Olding hoped to beat Caterpillar at their own game.
Rolls Royce had formed an engine oil division after World War II and another British industrial giant, Vickers Armstrong Limited set about developing a radical new tractor the Vickers Vigor VR 180, powered by a Rolls Royce engine. While development had started the year after WWII had ended, it was in July 1950 that Sir Hew Kilner, Vickers deputy chairman, announced that the new tractor would be available throughout the world by January 1952. Jack Olding & Company Limited, which had the worldwide marketing rights, announced it was giving up its Caterpillar dealership in July 1950, and started advertising the Vickers Vigor VR180 in December that year.
The Vickers' annual report released in 1951 revealed that they had taken a financial interest in Jack Olding & Company Limited.
In the David and Goliath encounter (at least in terms of market share) between newcomer Vickers and established Caterpillar, the British contender came off second best. The Vickers Vigor eventually disappeared from the scene after a few years (an example can be seen at the Royal Engineers Museum in Chatham, Kent – painted in a military olive drab).
However, there is another aspect to this ill-fated British venture, renown artist Terence Cuneo (whose statue can be seen at Waterloo station) was commissioned to do a number of paintings (reportedly six) that were used in promoting the Vickers Vigor tractor, and to decorate Jack Olding's office (the photo at the top shows the back of a set of playing cards featuring a painting of the Jack Olding and Company's Hatfield headquarters building and may be one of the Cuneo paintings).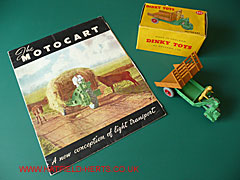 Originally designed and produced by S E Opperman & Co, another Hertfordshire firm, the three-wheel Motocart, with its tipping flatbed, was marketed by Jack Olding and Co. Although, they appear to have taken over the servicing, and possibly the manufacturing side as well, later on.
The company also marketed other even less well known agricultural vehicles like the Angus Potato Digger and the Opperman Motocart.
In 1952, probably after retiring, Jack Olding seems to have taken a more serious interest in the sport of kings and bought Druid's Lodge – J V Rank's 3,000+ acre training stables near Stonehenge near Wiltshire.
At their annual general meeting in May 1954, Vickers revealed that following further investments to their already substantial holdings in Oldings (Hatfield) Limited – the parent company of the Oldings group – the group had become a subsidiary of Vickers Limited.
Jack Olding appears to have devoted himself to racing. He followed up the purchase of Druid's Lodge by buying Dolanstown stud in Ireland for £40,000 in 1955.
His greatest success on the turf came in 1955 when his horse Weeber won the Queen Mary Stakes at Ascot. Another horse, Artic Slave won a number of handicap races under his colours over the next two years.
Jack Olding collapsed at Hurst race meeting on 26 May 1958. He died in hospital in London on 2 June 1958.
A memorial service was held at St Peter's Church, Eaton Square, SW London, on 11 June 1958. A large and distinguished gathering attended.
Jack Olding was reportedly a kind and generous employer. Long before it became fashionable to do so he arranged treats and outings for his staff. He even arranged keep-fit sessions for them with a celebrity instructor.
It is not clear why a man who had made a significant contribution both in wartime and the post-war period received no formal recognition. It may be he turned it down or perhaps he was out of favour in what was a class-conscious Britain. Or there may be another explanation.
Life after Jack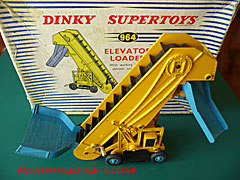 Barber-Greene Olding and Co Ltd, which appears to have been a joint-venture company, announced plans to move its European headquarters from Hatfield to Bury St Edmunds in 1960 (the picture shows a Dinky Supertoys diecast Barber-Greene Olding grain elevator loader).
In April 1969, Vickers sold companies in the Oldings group involved in the distribution and servicing of construction equipment (mainly on licence from American manufacturers) to Wiles Group Limited for £1.57m. It may be that it was as part of this sale that Jack Olding & Company merged with Scottish Land Development to form SLD Olding, which continued making tractors and other agricultural equipment.
SLD Olding mainly enriched the Hatfield story by sponsoring an employees' drag racing team – Hounddog, which recorded some successes at Santa Pod (Britain's only motor drag racing venue).
The Olding buildings were demolished in 1986 (but not before they had been used as Stowells of Chelsea's UK headquarters and bottling plant. Please see – Wines and Spirits), and the site is, at the time of writing, used by Tesco, Homebase, Habitat and Comet.
Some local people claim that Tesco were only granted permission to demolish the original building providing they included a clock tower in their new store.
It seems unfair that the only formal recognition of a man whose company did so much for Britain – in war and peace – is a road name, Oldings Corner, which currently only appears on maps and bus timetables (and even they are changing away).
Back to: Features on Hatfield23 July 2009