Collections – Diecast vehicles – Part 2
It is possible to specialise within the area of diecast vehicles by focussing on a certain type of vehicle, era or manufacturer. Illustrated on this page are a range of diecast buses linked to Hatfield.
Diecast buses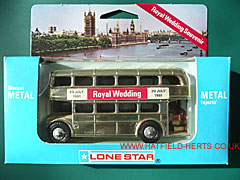 Lone Star commemorative Routemaster bus – this gilt example was produced to mark the Royal Wedding (Prince Charles and Lady Di) on 29 July 1981 (by this date at least one of the other factories had closed). A silver version was released in 1977 to mark HM Queen Elizabeth II's Silver Jubilee.
The Lions Medic Alert campaign Corgi buses – manufactured by Corgi in 1/64 scale, they were used for a Lions Club national Medic Alert fund and awareness raising campaign. Both of these limited edition diecast Routemasters were issued by the Hatfield Lions Club. The open top example is No.323 (route 105BN) and the other is No.444 (route 105A), both being from issues of 2,500.
Close up view of the front of the Lions Club Medic Alert campaign buses. The Hatfield branch of the Lions Club was relatively short-lived – founded in 1984, its last meeting was held in 1998/99.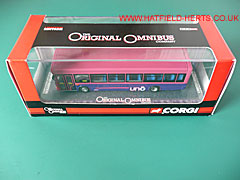 Corgi Dennis Dart SLF – part of their The Original Omnibus Company range (started in 1995). OM44708 has Uno route 602 livery (vehicle registration KC03 OSE) and is No.1330 in a limited edition of 2,010. Uno started life as Universitybus in 1992. The original Corgi range of diecast toy vehicles was launched in 1956 by Mettoy (founded by Philip Ullman and Arthur Katz in 1934 in Northampton; the name being shortened from Metal Toys) as a rival to Hornby's Dinky toys.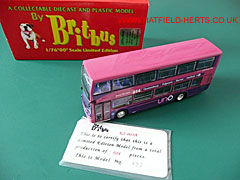 Britbus Scania Omnidekka – ES-003A was commissioned by the London Transport Museum. It bears the livery of Uno route 614 (vehicle registration UH55 UNO; fleet number 203), and is No.492 in a limited edition of only 504 issued in September 2006. Britbus is a brand of AsianBus (which came out of Hong Kong-based ABC Models).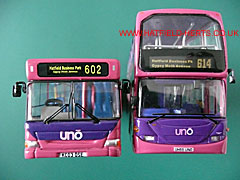 Both the Corgi Dennis Dart SLF and Britbus Scania Omnidekka are in 1/76 (OO) scale. Both destination boards show Hatfield Business Park, Gypsy Moth Avenue (although the London Transport Museum also commissioned another Britbus '614', UL55 UNO, with Queensbury as its destination).
Further information on Uno can be found under Claims to Fame – Transportation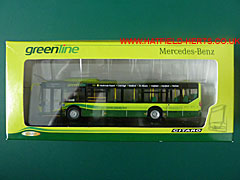 Creative Master Greenline 724 Mercedes Benz Citaro – UKBUS 5012 is a 1/76 (OO) scale diecast featuring BU06 HSD – one of nine Citaro buses which entered service in August 2006, and were assigned to the prestigious Route 724 Heathrow Airport-Harlow. Shown here is No.82 of a limited edition of 1,600. Creative Master is a Chinese manufacturer. Below is a close up showing the route strip on the side which lists Hatfield as one of the stops.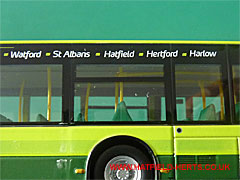 Back to: Diecast vehicles – Part 1
Back to: Hobbies and Collections