BAe146 Hangar
Hangars, like runways, are key components of aviation that are often overlooked or simply taken for granted. The last hangar built at Hatfield was for the BAe146 Whisper Jet. Made by a long established British firm, sadly it was removed after the airfield closed and no trace of it remains visible. The ground where it once stood is now being used for residential housing.
A brief history of hangars
Originally, aircraft were often built and stored in the same building – usually a suitably large shed, garage or barn. As they became more technically complex and mass produced the buildings also became more complex (a hangar could simply be an aircraft shelter or it could also house workshops and offices, while aircraft would be made in factories with several buildings for the different processes involved). Today, a hangar for military aircraft is often designed to protect the aircraft from attack (and not just by the elements) and called a HAS (Hardened Aircraft Shelter).
According to the Oxford English Dictionary, the word 'hangar' is of French origin and refers to a shed or covered shelter – particularly for carriages. However, the word was reportedly first used as a name for an aircraft shelter (for Santos Dumont – the famous balloonist) in 1902. So, hangars were around before the Wright Brothers made the first official heavier than air flight in 1903.
The French were the dominant force in European aviation in its infancy and until WWI (when a certain Captain de Havilland made a name for himself as a designer). Apart from a few flights by designer-pilots (like William Cody and Geoffrey de Havilland), most British pilots either travelled to France to train or qualified in England on French-built aircraft from makers like Deperdussin, Farman, Nieuport, Breguet and Bleirot. While Frenchman Julien Bessoneau founded a successful business making portable canvas hangars from 1910 (which were later used by the Allies during WWI).
[History often repeats itself: British aircraft manufacturing is now largely extinct but through EADS – the makers of Airbus, with their assembly plant at Toulouse – France is once again the dominant Western European force in aviation. Still key components, like wings and engines, are made in the UK. And Hatfield-trained / based people occupy key roles at Toulouse and with their rivals in the USA]
Early British hangars were made from wood. The long span roof supported by the lattice-like Belfast Trusses – examples of which can be seen at the RAF Museum in Hendon.
REIDsteel – makers of the 146 Hangar
Steel hangars may relate to early aviation pioneer Louis Bleriot, who made the first heavier-than-air, powered flight across the English Channel on 25 July 1909. He nearly didn't make it, which may account for the long interval before his second aerial crossing of the Channel on 16 August 1926 – and this time he was a passenger. According to information on a REIDsteel website, Bleriot stored one of his aircraft in a farmer's steel cattle pen in France in the early 1920s after an unplanned landing, and no doubt impressed with their construction called the English manufacturer and ordered three hangars, which were duly built at Lamotte-Beuvron.
REIDsteel was founded in 1919 by Colonel John Reid. This family-owned company is based at Christchurch in Dorset and still makes hangars today. Its handiwork can be seen in Britain at airports like Biggin Hill, Manston, Birmingham and Manchester, and around the world (Malta and Dubai being a couple of recently completed projects). Although, sadly, no longer in Hatfield but photographs and memories remain.
Ground level view of a corner of the hangar during construction. The hangar had a span of 80m, with an overall height of 20m. It was equipped with four 3.2 tonne overhead travelling cranes (used to move the various BAe146 component sections during assembly – only the front section was built at Hatfield). It had a built-in constant temperature heating plant and fire protection system. Plus, a safety system to prevent the electrically controlled doors from opening in high winds. The annexe housing the design and administrative offices (on the side of the hangar opposite the runway) is more clearly visible in the main picture at the top.
Completed hangar seen from the runway side
BAe146 – Whisper Jet
The BAe146 – also known as the Whisper Jet because of the quietness of its engines – made its maiden flight from Hatfield at 11:54 on 3 September 1981. Piloted by Mike Goodfellow, BAe chief test pilot, the other crew members of G-SSSH were: Peter Sedgwick, deputy CTP; Roger de Mercado, chief flight development engineer (who wrote an article on the construction of the runway at Hatfield), and Roger Hammond, instrumentation engineer.
The aircraft with its low noise emissions and STOL (short take off, landing) capability meant it could be used at airports (like London City Airport) that had demanding requirements that other aircraft simply couldn't cope with.
The aircraft was designed and the nose section was built at Hatfield. Final assembly of all the finished component systems took place at Hatfield. A process greatly speeded up by the new hangar with its four bays. In total, between 1983-1992, 221 BAe146 aircraft in three formats (passenger, freight and convertible) were built. After aircraft manufacturing ceased at Hatfield, a further development of the BAe146 (designated as the Avro RJ – built at Woodford) was developed and 166 were built before this programme was also halted in 2001.
Pictured above and below is G-SSSH, the first ever BAe146, in its new guise as BAe146-300, G-LUXE, which made its 'first' flight on 1 May 1987 at Hatfield. The 300 Series was longer and could carry more passengers and / or freight. The easiest way to tell a 100 Series aircraft from the 300 Series is to count the number of windows between the cockpit and the start of the wing (100s had 8 on each side, 300s had 10).
1 May 1987 was a double celebration at Hatfield – the unveiling and first flight of the BAe146-300, G-LUXE, and the formal opening of the BAe146 Hangar (construction of which had started in 1986).
In this atmospheric night view BAe125-1000B, G-ELRA, is seen emerging from one of the hangar bays. A derivative of the DH.125 (later HS.125) – which made its first flight from Hatfield on 13 August 1962 – G-ELRA was originally registered to British Aerospace (Commercial Aircraft) at their offices at Bishops Square, Hatfield on 20 September 1990. It was de-registered in June 1997 after being flown to a new home in the States.
The End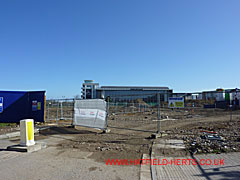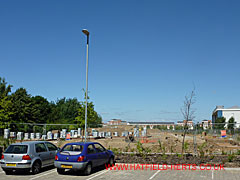 The surviving Flight Test Hangar (now a leisure centre) provides a useful reference point as no trace of the 146 Hangar remains above ground. The first picture shows the cleared site from the de Havilland Campus / St Albans end. The second shows the start of the housing construction and the site seen from the Hatfield town end (corner of the Flight Test Hangar can be seen on the right).
On a happy note: the aircraft that were designed and built here and their derivatives can often be seen in the skies over Hatfield.
Acknowledgements
Thank you to Michael Reid MBE and Gail Baker of REIDsteel for their assistance and permission to use information and images from their website.
Back to: Aviation and Aerospace