Leisure – RAF Museum
The Royal Air Force was formed during WWI, from the merger of the Royal Flying Corps and the Royal Naval Air Service, on 1 April 1918. So it seems fitting that the Royal Air Force Museum has two main locations – Hendon and Cosford. While both locations have aircraft on display that are linked to (some were built in) Hatfield, the closest to us is the original museum at Hendon, London opened by HM The Queen on 15 November 1972.
Hendon itself is steeped in aviation history dating back to when a local company, Everett & Edgcombe, built an aeroplane, and a shed in a field at the end of Colindale Avenue to house it in 1909 (coincidentally, the same year Geoffrey de Havilland built his first plane). Two years later, Claude Grahame-White bought the land and promoted it as London Aerodrome.
Hatfield and Hendon share an aviation bond. Hendon is more famous for air races and RAF displays – drawing crowds estimated at times to be half a million strong, and inspiring many future Battle of Britain pilots to take up flying. Hatfield airfield, opened several years later, was used for rehearsals and as a base for some of the planes and pilots taking part in pre-WWII RAF Hendon displays (and hosted a few races and shows of our own).
Please note: exhibits and displays are moved around from time to time for various reasons, so when you visit you may find they are not necessarily in the locations shown here.
Milestones of Flight
Now the museum's main centrepiece, it was opened in 2003 – commemorating the centenary of mankind's first heavier-than-air, powered flight.
The building is shown here as viewed from the side closest to the Grahame-White Factory building. Sky Dance – a sculpture by Kisa Kawakami – can be seen behind the tree and marks the museum's visitor entrance.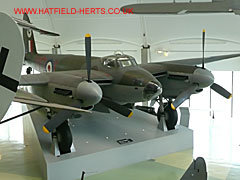 de Havilland DH.98 Mosquito B.35 TJ138 – part of a batch of 70 ordered from Hatfield, which was delivered between July-November 1945.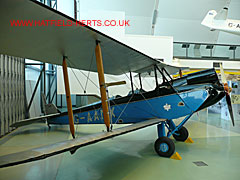 de Havilland DH.60M Gipsy Moth, G-AAMX – built under licence in the USA by Moth Aircraft Corporation in 1929. Crashed in 1930 and the remains were kept in storage. Bought for restoration and shipped to the UK in 1983. Final assembly, engine test and first flight (25 July 1987) were carried out at Hatfield.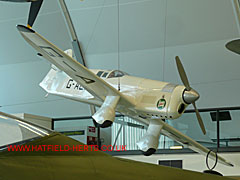 Percival Mew Gull E.2H, G-AEXF – replica of the plane used by Alex Henshaw to win the 1938 King's Cup Air Race at Hatfield. The original is still flying, and is currently operated by The Real Aeroplane Company at Breighton in Yorkshire.
Hawker Hart II, G-ABMR – built at the Hawker works at Kingston, Surrey in 1930. Entered by Princess Margaret (piloted by Group Captain Peter Townsend) in the 1951 King's Cup Air Race at Hatfield, which was cancelled due to bad weather. In 1953 it took part in the flying display at the Royal Aeronautical Society's 50th Anniversary of Flight garden party held at Hatfield. It was repainted as former No.57 Squadron Hart J9941 in 1963.
Historic Hangars
The original museum and entrance (before it was moved to the Milestones of Flight building). It houses the archives, shop and adjoins the Bomber Command Hall.
The historic hangars date back to WWI, a lack of iron and steel lead to the use of intricate, lattice-like, wooden Belfast Truss structures to support the roof. The two hangars have been joined in the middle to create a display space for the fighter collection. Among the exhibits are air-launched missiles, like Firestreak, which also have Hatfield connections.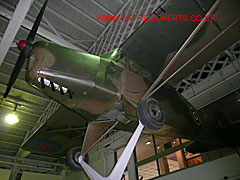 Taylorcraft Auster I, LB264 / G-AIXA – built at the Taylorcraft Aeroplanes works in Leicester as part of a batch of 100 in 1942. In May 1943 transferred to the No.1 Elementary Flying Training School (EFTS) that had moved from Hatfield to Holwell Hyde Relief Landing Ground (renamed RAF Panshanger in September 1943).
de Havilland DH.9A, F1010 – built at the Westland Aircraft works at Yeovil in 1918. One of 18 sponsored by His Serene Highness, the Nizam of Hyderabad (a Muslim Indian ruler) – the first time that anyone had funded an entire squadron.
de Havilland DH.100 Vampire F.3 VT812 – built under contract at English Electric works at Preston. One of 117 built between April 1947-May 1948.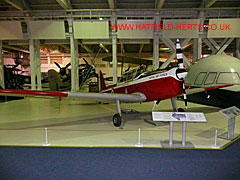 de Havilland Chipmunk T.Mk.10 WP962 – built at the de Havilland plant at Broughton, Chester as part of a batch of 145 (which were built at Hatfield and Chester).
Bomber Command Hall
Opened in 1983. Its centrepiece is the Avro Lancaster B.Mk.I, R5868, S-Sugar, a veteran of over 100 raids. Also houses an Avro Vulcan, Consolidated B-24 Liberator and a Handley Page Halifax. Plus, some of their German opponents – including a Focke-Wulf Fw.190 (the example on display is a rare twin-seat version). A standard Fw.190 single-seater fighter was displayed at Hatfield in 1944.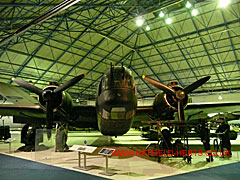 Vickers Wellington X, MF628 – ordered from Vickers-Armstrong at Squires Gate, Blackpool in 1942. In 1953 took part in the flying display at the Royal Aeronautical Society's 50th Anniversary of Flight garden party held at Hatfield.
Airspeed Oxford I, MP425 / G-AITB – built under contract by Standard Motor Car Co Ltd at their Coventry works as part of a batch of 150 in 1943. 1,440 Airspeed Oxfords were built at Hatfield during WWII.
Battle of Britain Hall
Opened in 1978, and revamped in 2009 – adding the glass front shown in the photo.
Houses examples of the Hawker Hurricane Mk.I, Supermarine Spitfire Mk.I and Westland Lysander Mk.III. Prototypes of these three types were displayed at Hatfield before the war (the Lysander displayed was a Mk.I). It also houses the largest collection of German WWII aircraft.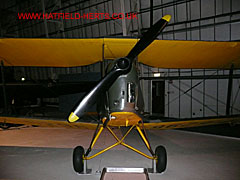 de Havilland DH.82A Tiger Moth II, T6296 – built at the Morris Motors Cowley works at Oxford in 1941. Thought to have been based at Hatfield and used by the No.1 Elementary Flying Training School from June-December 1941. However, there is some uncertainty over the aircraft's identity and history.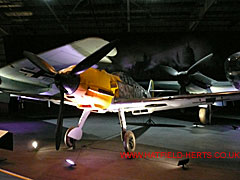 Messerschmitt Bf.109E-4, Werk Nr.4101 – flown by Leutnant Wolfgang Teumer of 2/JG51 on 27 November 1940. After being attacked and damaged by a Spitfire he crash landed at RAF Manston. Repaired, it was later flown to Hatfield by a British pilot for evaluation of its variable pitch propeller assembly on 8 February 1942.
V1 (Vergeltungswaffen or Vengeance Weapon 1) – thousands of these missiles, known in Britain as Doodlebugs or Flying Bombs, were launched from ramps in Occupied Europe. The two that struck Hatfield were most probably modified versions launched from aircraft. Holes have been cut in this example to show the internal works.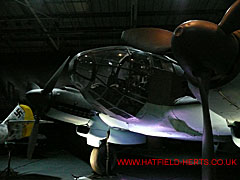 Heinkel He.111 H-20/R1 – the air launched V1's that hit Hatfield during WWII were most probably launched from this type of aircraft.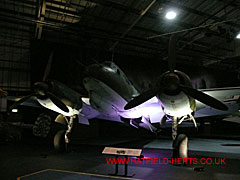 Junkers Ju.88 R1, Werk No.360043 / PJ876 – possibly a modified Ju.88A – the version of this aircraft that bombed the de Havilland works at Hatfield causing the town's greatest loss of life. It is displayed with its bomb doors open. A captured example of this type of aircraft was displayed in Hatfield in 1944.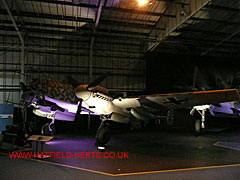 Messerschmit Bf.110 G-4/R6, Werk Nr.730301 – thought to have been built in 1944. That same year a captured version (presumably an earlier mark) was displayed in Hatfield, along with a Junkers Ju.88 and a Focke Wulfe Fw.190 fighter.
Grahame-White Factory
Part of the UK's first aircraft factory, purpose-built, here at Hendon by Claude Grahame-White in 1917, reassembled and opened as part of the RAF Museum in 2003. Many of the fittings are original so it is an important part of aviation architecture. Contains many WWI vintage aircraft but no de Havilland designs.
Please note: opening hours are limited for this part of the museum.
Cosford
The Cosford wing of the RAF Museum opened in Shropshire on 1 May 1979. It also holds number of aircraft linked to Hatfield. Actually, there are more aircraft built in Hatfield at Cosford than at the Hendon site.
de Havilland DH.98 Mosquito B.35 TA639 – part of a batch of 80 built at Hatfield, which was delivered between March-July1945.
de Havilland Devon C.2/2 VP952 – built at Hatfield in 1947.
de Havilland Venom FB.4/50 J-1704 – built under licence in Switzerland in 1956.
de Havilland Comet 1XB XM823 – built at Hatfield in 1953. Last of the 21 Comet I aircraft. Modified at Hatfield in 1954, it returned again in 1958 for use in research work.
de Havilland Chipmunk T.Mk.10 WP912 – built at the de Havilland plant at Broughton, Chester as part of a batch of 145 (which were built at Hatfield and Chester).
English Electric Lightning F.1, XG337 – built at Warton, Lancashire. Was used in missile research work at Hatfield in 1965.
Note 22.12.11: Comper Swift CLA.7, G-ACGL – originally reported as scrapped in 1942 (although the registration was only cancelled in December 1946), sufficient parts survived to rebuild this aircraft, and it was unveiled on 3 November 2011. Once owned by test pilot Alex Henshaw, who raced it at Hatfield in the 1933 King's Cup Air Race.
Help preserve Britain's aviation heritage
The RAF Museum shares close historic aviation links with Hatfield. It is as much an aviation museum as it is a military one. By joining the Friends of the RAF Museum you can help support the preservation of British (and world) aviation history. Plus membership allows you the opportunity to see behind the scenes.
Please click here for a link to the Friends page on the RAF Museum site
Thank you to the RAF Museum for permission to publish the images used in this section.
Back to: Days out from Hatfield