Alternative Voting – Part 2
Click here for Alternative Voting – Part 1
Size matters – or do people matter more?
Another argument advanced by defenders of the current state of affairs is that the spending difference is because Welwyn Garden City is much bigger than Hatfield (rather ironic, given that WGC was part built on land that was part of Hatfield – and has since appropriated other bits, like Stanborough Lakes, which still comes under the Hatfield electoral ward of Hatfield Villages).
However, while that was true, Hatfield is far more compact, as the average property is not as spacious nor has such large gardens as in WGC. Also, the town has dramatically increased in size with the development of the airfield site. Plus, there has been substantial 'brownfield' development in Hatfield (for example, Hazel Grove Primary School has been turned into housing with a new road, Filbert Close), and a massive rise in the number of Houses in Multiple Occupancy (HMO's).
One of the many brownfield housing developments that have sprung up in Hatfield. This Roe Green Lane development (seen from St Albans Road West) was built on former garages. Other developments currently being built or nearing completion include the former police station site being turned into a multi-storey retirement home and housing being built on former garages in Old Hatfield.
It will be interesting to see the results of the 2011 national census to see how the population of Hatfield has grown. Although it is unlikely to reflect the number of students who only stay over in the town for a couple of nights when they have lectures. Also, the current massive housing development between the de Havilland Campus, Parkhouse Court and the former Flight Test Hangar is still being built so its eventual population will not be included.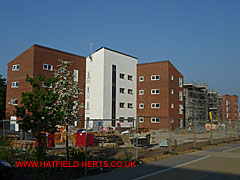 View of some of the multi-storey housing being built on the airfield site behind Parkhouse Court.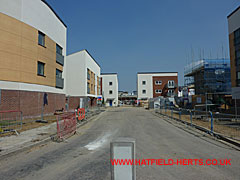 New multi-storey housing development on the airfield site seen from de Havilland Campus end
Hatfield Town Centre redevelopment
While joint public funds have been lavished on Welwyn Garden City for over a decade, the long-suffering residents of Hatfield have seen little sign of a new town centre – apart from articles, newsletters, models, signs and a few bore holes.
The author attended some of the WHBC planning meetings for the Hatfield town centre redevelopment (held in WGC), and was struck by an apparent lack of concern and interest in progressing the project.
It seemed that unless funds were going to be made available from central government, WHBC was not going to put its hand in its own pocket to invest in Hatfield (but as shown above, clearly the same did not apply to spending in WGC).
There also seemed to be a total lack of interest by most councillors. The whole process was to be handled by the property developer, St Modwens, and it would be driven primarily by commercial concerns – rather than building a town centre that present and future generations would be proud to call home.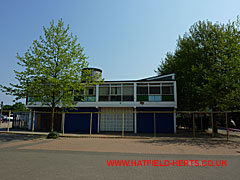 In a rather cynical gesture, the day it was announced that Hatfield had been selected as the site for an incinerator contractors started to fence off the former Robin Hood pub building (shown above). With local elections looming, this seems to be a ploy to convince Hatfield voters that the redevelopment is finally going ahead.
History of Welwyn Garden City panels – on the walls of the Sainsbury supermarket construction site at WGC, created with the help of the Mill Green Museum. It will be interesting to see if Hatfield's history is featured in a similar way.
In reality, for the 2011/12 financial year, WHBC has only allocated £4.8m towards Hatfield redevelopment, which commentators say is only enough to cover the compulsory purchase of land and knocking down the old Robin Hood. No funds were made available to actually start building. However, WHBC has allocated £2.7m in this financial year to develop Splashlands in WGC.
Also, St Modwens will only proceed with the development if they can sell enough units and retail space. However, the actions of the various local authorities (all currently Conservative-controlled) have made Hatfield a less attractive investment prospect .
For example:
1. The announcement that Hatfield will be the site for an industrial scale incinerator.
2. Between 1 April 2006 to 31 March 2011 alone there were 93 transfers of Hatfield council tenant households to Welwyn Garden City accommodation. The reason for this relocation is not clear although WHBC did refuse to provide figures on the number of refugees housed in Hatfield and in WGC. Regardless of moral / spiritual considerations, the reality of life in the UK is that a concentration of refugees and lower income groups usually decreases an area's attractiveness.
So, no one is likely to want to touch Hatfield with a barge pole unless they want to invest in student accommodation or housing for refugees and other social needs cases. Which may serve the interests of some but not the majority of taxpaying, voting residents in Hatfield.
Fight back – Vote 'Yes' to Alternative Voting
While it won't give Hatfield as much electoral clout as Proportional Representation would have, it will send a clear message to the currently Conservative-controlled county, borough and town councils that enough is enough.
OUR town is NOT to be taken for granted or used as THEIR dumping ground.
Click here for Alternative Voting – Part 1