Collections – Badges – Part 2
Continuation of the feature on Badges.
Club badges
As the name suggests this relates to any badge produced by a club. Although it is possible to specialise in a particular area or activity.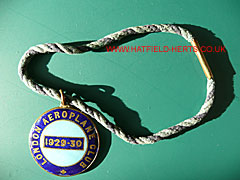 London Aeroplane Club 1929-30 membership badge – as there is no pin this is strictly speaking perhaps more token than badge. Indeed, the Brooklands Aero Club used a similar device. Possibly it was used to indicate which member was using a club aircraft or it could be something more simple, like booking a tennis court. The London Aeroplane Club was operated by de Havillands and moved its headquarters from Stag Lane to Hatfield in late 1933.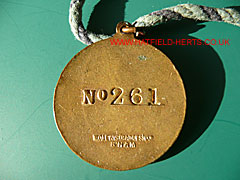 Reverse bears the number No.261 and the maker W O Lewis (Badges) Ltd of Birmingham (abbreviated to B'Ham). Known to be the maker as of the 1928-29 version as well.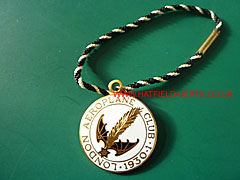 The 1930-31 London Aeroplane Club badge or token is larger and more elaborate than the previous year. And it was made by a different manufacturer.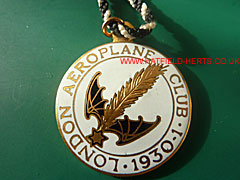 Close up of the main badge or token. It appears that the club has been relaunched with what was possibly a new logo – the comet and bat wing, black and gold emblem shown above – although this is not known for certain. Different versions of the design show the star at the head of the comet's tail with five or six points. However, it is interesting to note that the first new aircraft to be assembled at Hatfield was the DH.88, known as the Comet Racer, and that its chief designer, Arthur Ernest Hagg, was probably a member of the London Aeroplane Club (having qualified as a pilot at Hatfield on 16 April 1931). Prior to the move to Hatfield, de Havilland aircraft were named after moths (Geoffrey de Havilland was a keen lepidopterist – someone who studies Class Lepidoptera, which includes moths and butterflies). The bat's wings may have even inspired the name of the much later DH.100 – the Vampire.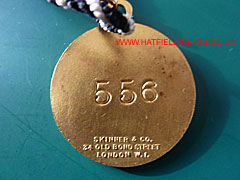 Reverse bears the number 556 and the maker's details: Skinner & Co, 34 Old Bond Street, London, W1.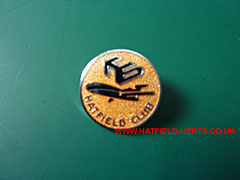 Hawker Siddeley Hatfield Club – the aircraft shown in the middle is a HS.121 (originally DH.121) Trident. Believed to relate to what was originally the de Havilland Sports and Social Club (rather than the aircraft). The HS logo at the top suggests it dates between 1960-77. Pin fastening on the back, it is about the size of a penny.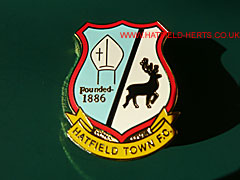 Hatfield Town Football Club – etched metal and enamel badge
Event badges
As the name suggests these are badges issued to mark a special occasion, event or anniversary. Often there is an overlap with one of the other areas of badge collecting or themes (like the Olympics), which makes these badges more sought after.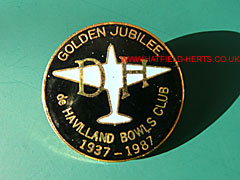 de Havilland Bowls Club Golden Jubilee (1937-1987) enamel badge. Also collectible as a company, club or sport badge.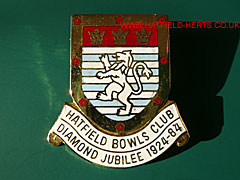 Hatfield Bowls Club Diamond Jubilee 1924-84. Also collectible as a club or sport badge.
1st Hatfield Boys Brigade 60th anniversary (1946-2006) badge. The Boys Brigade was a forerunner to the Scout Movement. The Boys Brigade was founded by Sir William Alexander Smith on 4 October 1883 in Glasgow (Lord Baden Powell started the Scouts in 1908).
Blue Peter badges
Originally there were only two designs – the trade mark blue ship logo on a white plastic shield and a cut-out Gold special badge. Now, there are also Silver, Green, Orange and Purple versions.
Car badges
These are badges that would have been mounted on a car (and not badges of cars or makers). Apart from the manufacturer's logo, motoring organisations, like the AA (which first issued car badges in April 1906) and RAC, had badges that showed membership. Other organisations followed suit and early 20th Century car bumpers and grills could be festooned with badges relating to the owner's membership in various organisations – including flying clubs (which served as status symbols). These badges were usually made of metal often with the logo depicted in various coloured enamels. Even today we use disabled and parking badges (although these tend to be made of paper and displayed from inside the car).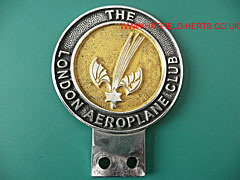 London Aeroplane Club – car badge which would have been fastened to the front bumper. The London Aeroplane Club started off at Stag Lane by de Havillands but was the first part of the business to be moved to Hatfield.
Aviation badges
Basically any badge with an aviation theme – it could relate to the company, aircraft or airline. Indeed, some of the badges shown above under different headings can also be classed as aviation badges.
BAe146 – 3D, metal with a butterfly clasp fastener, this could be used as both a badge and a tiepin.
Amy's Jason – commemorating Amy Johnson's famous 1930 solo flight to Australia in her DH Moth, G-AAAH, which she called Jason. It is preserved at the Science Museum in London. Although Amy learnt to fly (and Jason was built) at Stag Lane, she was a regular visitor to Hatfield and sadly was on the strength of the all-women Air Transport Auxiliary Ferry Pool No.5 based at Hatfield at the time of her tragic death. From a collector's point of view the enamel on the badge is worn which reduces its value.
DH.91 Albatross – only seven of these elegant four-engine airliners were built, which were designed and first flown at Hatfield. The Albatross was the first aircraft to wear the Speedbird logo of Imperial Airways (better known as the BOAC logo). This example appears to be a lapel badge or it may even be a cufflink. Given this aircraft type's limited numbers and service life it is a rare item.
Back to: Hobbies and Collections