Collections – Badges
Badges have been around for centuries. Although, button badges, which is what often first springs to mind when badges are mentioned, date back to the 1890s. These were first made by Whitehead & Hoag, an American firm based in New Jersey. Button badges probably account for most badges in existence.
Badges, particularly official ones representing office or achievement, can be very elaborate and exquisitely crafted. These are often more like jewellery, and command prices to match. However, badges come in all shapes and sizes, and cover an extensive range of subjects, so there's usually something that appeals to most interests. People will often specialise in a particular field or subject area.
Some types of badges
These are a few of the many types of badges and themes that appeal to collectors. Some Hatfield examples are also pictured below.
Pilgrim badges
The earliest form of mass produced badges in Europe. Made for pilgrims visiting holy shrines, these badges were called 'signs'. Usually made out of metal, often with loops or holes so that they could be fasten to clothing or worn around the neck. Some were attached to walking sticks. Others are likely to have been fastened to the harness of their horse (Horse Brass is considered to be a separate branch of collecting).
Military badges
Often involving elaborate designs and complicated to make, military insignia provides information on the branch of the Armed Forces, unit, rank, length of service, campaigns or special achievements and are highly prized. They often fetch high prices due to the strength of demand. Some people collect badges relating to a particular branch of the Armed Forces or regiment. Others specialise in a type, like cap badges, or period / conflict.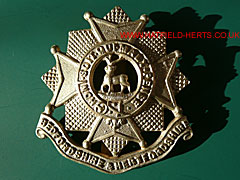 Bedfordshire & Hertfordshire Regiment cap badge – originally the Bedfordshire Regiment, so many men from Hertfordshire (including many from Hatfield) served and died in it during WWI that it was renamed in their honour.
Sheriff stars / Police badges
Sheriff stars and US Marshal stars mainly appeal to the US market but memorabilia linked to the Wild West and Westerns has a global appeal thanks to Hollywood movies.
Real sheriff stars command very high prices but replicas can be bought for far less.
Scout badges
Scout badges, like the movement, are modelled on the military, and are used to show rank, length of service and achievement. As such, they have a motivational use. Generally they tend to be cloth patches sewn on to the uniform rather than pin fastened. At the time of writing there were some 8 challenge and 70 activity badges in use by the UK Scout movement. There are also badges / patches relating to the branch of scouting and the troop's home.
Trade Union badges
Trade Unions produced badges as far back as the 1870s. Again, following the military model (probably man's oldest form of organization), they were used to denote membership, rank, and commemorate 'campaigns', like the 1984 Miners' Strike, and much earlier actions. In 1934, the Trades Union Congress (TUC) held a competition for a design to mark the centenary of the Tolpuddle Martyrs. Apart from fostering a sense of identity, badges had a practical use in marking out union officials, like shop stewards, who would otherwise be identically dressed to other members of the workforce.
Company badges
These are often simply a version of the company's logo but more elaborate designs are created to mark special events, anniversaries or achievements.
Replica of a de Havilland worker's badge.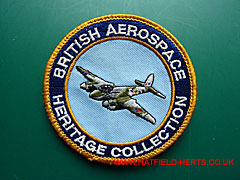 British Aerospace Heritage Collection cloth patch / badge. The main BAe documents archive, which holds their historic records (including those relating to their time in Hatfield) is at Farnborough. The DH.98 Mosquito shown on the badge is RR299 (G-ASKH), which starred in the film 633 Squadron and was based at Hatfield for at least a decade. Sadly, this – the last flying British Mosquito – was lost in a crash on 21 July 1996 which killed both crewmen.
Masonic badges
The origins of the Freemasons – a fraternal brotherhood – is shrouded in mystery. They use a number of designs and devices in a variety of forms. Perhaps more accurately described as insignia, masons refer to items likely to interest badge collectors as 'jewels'.
Past Master's Collar Jewel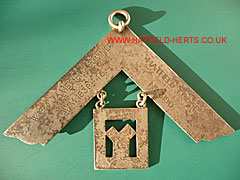 Reverse inscribed: 'W. Bro. James H. G. Sumner, W.M. 1939-40' and 'Hatfield Lodge, No.3190'. Indicating that the Worshipful Brother James H G Sumner was the Worshipful Master (head) of the Hatfield Lodge from 1939-40.
Badges of Office
Essentially, these are emblems of rank and status in an organisation. Sheriff stars, Masonic badges, Scout badges could also be described as badges of office. However, for the purpose of this classification it is for badges of public bodies and corporations.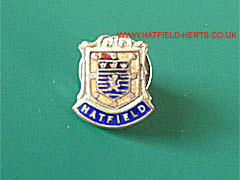 Coat of Arms of the Hatfield Rural District Council (RDC) mounted on a pin with a butterfly clasp. Thought to be a tie pin for councillors and / or staff. The coat of arms was granted on 14 May 1945, and the Hatfield RDC was abolished in 1974, so it most likely dates to somewhere between the two events. The Hatfield Arms pub sign (below) also uses the coat of arms of the Hatfield RDC. However, both the badge and pub sign use a simplified form of the Hatfield RDC coat of arms (as does the Hatfield Bowls Club – shown under Event badges). An example of the full coat of arms – with crest, mantling, and motto scroll – can be seen on the doorway to the Welwyn Hatfield Borough Council chambers at Campus West, WGC.
Button badges
First made in America in the 19th Century, these mass produced and inexpensive badges comprised of a celluloid or otherwise laminated printed paper on a round metal base and pin fastener. These are the most common and widespread form of badge.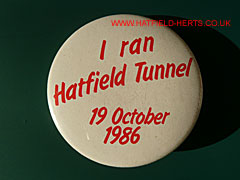 A larger version of a button badge. This one is also collectible as an event badge. When the Hatfield Tunnel was completed, before it was opened to traffic, a celebratory party and events were held in the tunnel.
Pop badges
Badges were part of the music movement in the 1960s and 1970s. Musicians of the day often wore badges with political messages relating to events of this era (like the Black Civil Rights movement and Vietnam War). Wearing a profusion of badges also became part of youth fashion. Today, badges are a standard part of most bands' merchandising offer, particularly at concerts.
School badges
Today the average school badge tends to be a relatively simple affair (although the design of the crest may be complex). However, school badges go back centuries. Students of Christ's Hospital, more commonly known as 'Bluecoats', were required to where certain badges by a Royal Charter dating back to 1672. Even in the 18th Century some of these were in the form of an elaborate die-stamped piece of silver with holes on the outer border to allow them to be fastened to their coats.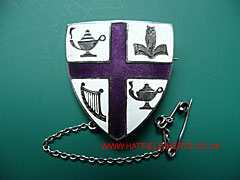 Queenswood School badge made from hallmarked silver with white and purple enamel. This may have belonged to a teacher or prefect.
Click here for Badges – Part 2
Back to: Hobbies and Collections