Images of Hatfield – Oaks











This section contains photographic images of some of the Oak (Quercus) trees in Hatfield, and the surrounding countryside.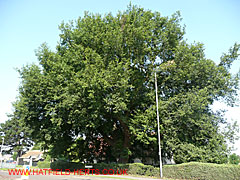 Oak, St Albans Road East – Hatfield has a number of fine examples of Oak trees (there are some 500 different species worldwide) this one is in front of St Luke's Church by the town centre.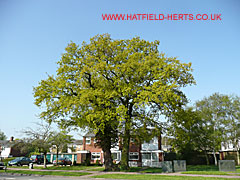 Oak, Travellers Lane – Hatfield has a number of fine examples of Oak trees but this one is stands out as it has a twin trunk. The light green leaves show the picture was taken in Spring.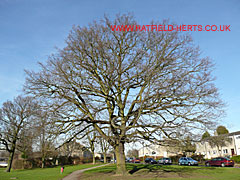 Oak, Badger Way – Oak is a deciduous species, meaning it sheds its leaves in the winter months. If it didn't the combined weight of the snow and leaves would snap its branches, and the resulting wound would leave it vulnerable to disease.
Oak, Woods Avenue (near Oxlease roundabout) – one of a number of examples found on both sections of Woods Avenue.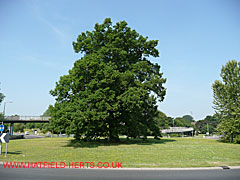 Oak, A1001 roundabout – this relatively young specimen greets people driving into town using the A1001 from the South.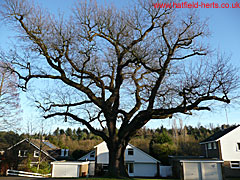 Oak, The Holdings – one of the finest specimens on the streets of Hatfield.
Oak, Briars Lane – seen here with a covering of snow.
Oak, Briars Lane – this was another rare twin trunk example. Unfortunately one of the trunks was cut down (what looks like a bush at the base are fresh shoots growing out of the stump).
Oak, Woods Avenue – this example, close to the town centre, seen from the playing field opposite Bishop's Hatfield Girls' School.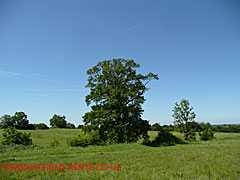 Oak, New Barnsfield – one of the many trees in the countryside around the town.
Oak, Southdown Court
Oak, Briars Lane – although it appears to dwarf the car, this is a very young tree.
Oak, Millennium Park, Millwards – the scars where its lower branches once grew can be seen on the trunk.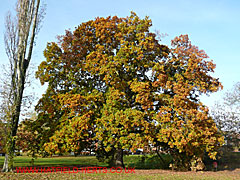 Oak, St Albans Road West – behind the Hatfield Swim Centre. Seen here with a mature canopy. The leaves are changing colour from green to yellow and then a reddish-brown.
Oak, St Albans Road West – one of the oldest Oaks in the town, split in two with the larger portion lying on the ground. Without its leaves it gives the impression of being dead. But so far (touch wood – as it's supposed to bring good luck), every spring it proves it's still with us.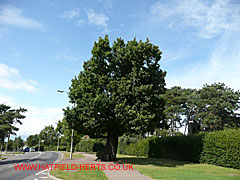 Oak, Bishops Rise – this one near the old Thames Valley Water Company's HQ entrance. It's branches have severely cut back.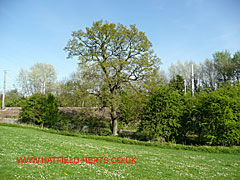 Oak, Stream Woods – located at the northern end, close to the rail tracks. Shown here with young leaves.
Trio of Oaks, Briars Lane and Cedar Road junction
[28.10.10 note: sadly, the Oak on the right was cut down earlier this month]
Back to: Hatfield Photo Gallery
Back to: Hatfield Photo Gallery – Part 2