Images of Hatfield – Dusk
This section contains photographic images taken in Hatfield after sunset.











Twilight – light from the sky when the sun is below the horizon in morning or (usually) evening.
Dusk – a darker stage of twilight.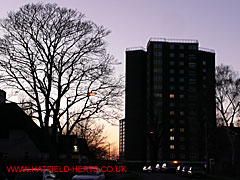 Goldings House, with the corner of Queensway House just visible, from Link Drive.
House on the corner of Fore Street and The Broadway, with the chimneys of the former Salisbury restaurant visible in the distance.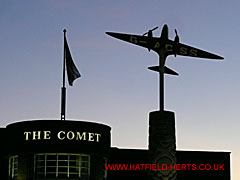 DH.88 Comet Racer model and roof of The Comet Hotel.
Trees bordering the field off Lane End framed by the glowing embers of the day (perhaps more twilight than dusk).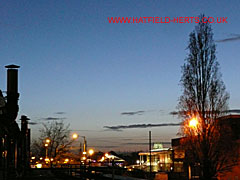 Dog Kennel Lane, Hatfield Town Centre, with Asda and Hatfield Swim Centre visible beyond.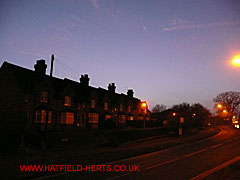 Glebe Cottages, French Horn Lane.
Entrance to the Student Halls of Residence, Bishops Rise.
Simmons Bakery and Head Office, The Parade.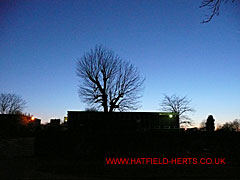 Bishop's Hatfield Girls' School Hall and Oak tree from Woods Avenue.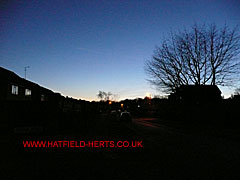 View down Cedar Road from the Lark Rise end.
View down Willow Way, South Hatfield.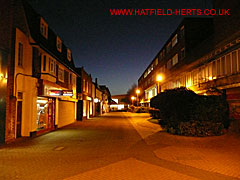 Night falls over Hatfield Town Centre – this pedestrianised section was once the route of the St Albans Road (the Francis Frith Photos section has a picture of how it looked around 1955 when the road ran through the town centre).
Back to: Hatfield Photo Gallery