Collections – Picture Postcards
The first officially produced postcard, the Correspondenz-Karte, went on sale in Austria in 1869. In 1870, 30 years after Sir Roland Hill introduced the penny post and the first postage stamp – the Penny Black – the first UK postcard was introduced. Experts appear divided as to the date of the first picture postcard. Carte-de-visite photographs of famous views, people and paintings had been around since the 1860s. Advertising labels and flyers that conformed to postal regulations were allowed in the US mail system from around 1861. Privately manufactured cards were allowed in Britain in June 1872. But British picture postcards appear to only have formally made an appearance around 1894.
In 1902, Britain became the first country to divide the back of the postcard allowing a full picture on one side, and the address and message on the other.
British printers seem to have lagged behind and a number of publishers had their designs printed in Germany (particularly Saxony and Bavaria). Within a short space of time the postcard started appearing in more themes, materials and designs. Early collectors include Queen Victoria. But it was during the reign of her successor that the 'Golden Age' of postcards began (1902-1914). Unfortunately, the reliance on German printers meant that once World War I started it ended the national love affair with the postcard.
Postcard collecting experienced a revival in the Seventies but nothing like on the scale of its golden age. Even so, today there are a number of auction houses, dealers and tens of thousands of serious collectors worldwide, with their own dedicated publications and regular sales.
People collect postcards for all sorts of reasons. Many collect because picture postcards offer a vital insight into our past history. Some collect a theme – topographical, local history, postal history, military and regimental themes, ships, cars, planes, works of art, art periods (like Art Deco), aviation, events, disasters...Or they might specialised in postcards from one of the big name publishers, like Francis Frith, Tuck or Valentine. Or a smaller local one – like James Cox of Hatfield. A stationer on Fore Street (his shop can be seen in some early postcards with Fore Street views), he seems to have used at least some Valentine photographs, so they may have been produced to order – an early example of Own Branding).
Please note: unused, mint condition cards and extremely rare postcards command the best prices. Used postcards – that is to say they have been mailed or written on – are usually less desirable to serious postcard collectors but historians find postmarks and dates written on them useful. And, of course, they can appeal to people who collect stamps or postmarks.
Aviation postcards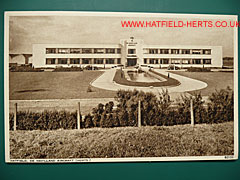 The de Havilland Aircraft Company building – unused and undated Photochrom postcard.
DH.88 Comet Racer, Grosvenor House (G-ACSS) winner of the 1934 England-Australia Centenary Air Race, with headshots and signatures of her two pilots – unused, undated Tuck souvenir postcard.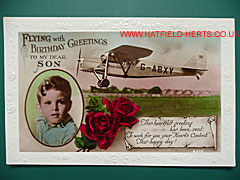 Unusual birthday greetings postcard featuring Jim Mollison's DH.80 Puss Moth The Heart's Content (G-ABXY) – used but undated Art Photo postcard.
Event postcards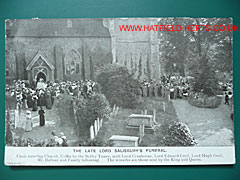 The Late Lord Salisbury's Funeral – Church service for the 3rd Marquess of Salisbury. Used, unbranded postcard. Postmarked 13 October 1906.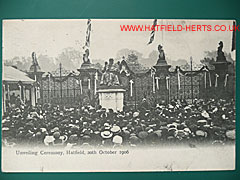 Unveiling ceremony (of the statue of the 3rd Marquess of Salisbury), Hatfield, 20th October 1906 – Cox (of Hatfield) postcard. Postmarked 20 December 1906.
4th Marquess of Salisbury postcard speaking at the unveiling ceremony – Watford Engraving Co postcard. Postmarked 14 November 1906.
Military postcards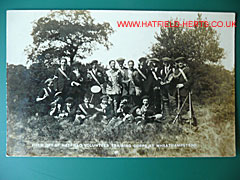 Field day of the Hatfield Volunteer Training Corps at Wheathampsted – unused, undated and unbranded postcard. Photo by E Kentish of Hatfield.
Rail postcards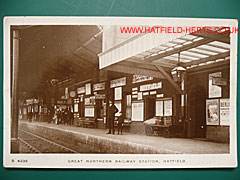 Great Northern Railway Station, Hatfield – unused, undated Kingsway Real Photo Series postcard.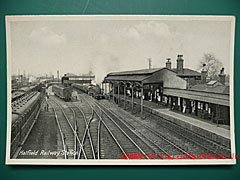 Hatfield Railway Station – unused, undated and unbranded postcard.
'Flying Scotchman' steam engine 'near Hatfield' – used colourised Tuck's postcard. Postmarked 26 March 1906.
Topographical postcards – Hatfield
Also called Scenic postcards. There are a large number of Hatfield view postcards, the bulk of which relate to Hatfield House and Park. Still, there are some interesting views of Old Hatfield and its surroundings.
Click here for the Hatfield Postcard Tour
Topographical postcards – Hatfield related
Some postcards, like the DH.88 Comet Racer postcard above, are easy to link to Hatfield but with others the link isn't always clear.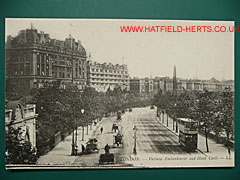 Victoria Embankment and Hotel Cecil, London – unused, undated and unbranded postcard. The trams have long gone and the Hotel Cecil (the building on the left, was the largest hotel in Europe when it opened) has since had a radical Art Deco exterior makeover. Known today as the Shell Mex building, the original name was based on it occupying the location of the Cecil family's original London residence. In Tudor times the river bank would have extended to the park on the left (which still has a historic gateway that marked one mooring place) – making it easy to travel to places like Hampton Court or the Tower of London by boat.
Back to: Hobbies and Collections