Collections – Beer Labels
As an organised hobby collecting beer labels is a relatively recent phenomenon – most labologist organisations and associations came into being only after the late 1950s
(The Labologists Society of England founded in September 1958 is thought to be the oldest). However, individuals are known to have started to collect beer labels from at least as early as 1911 (it is possible to collect other types of labels but most societies appear to focus more on beer and beverage labels).
The largest collection of beer labels from across the world is reported to number around 100,000. While the largest collection of British beer labels is over 22,000.
While these are large numbers it should be remembered that there used to be a huge number of small breweries around (some 6,000 were put on the market in Britain in 1900).
Beer is an ancient drink, and has been brewed in Hatfield since the 1500s.
Click here for a link to Claims to Fame – Brewing
Labology, the practice of collecting paper labels, is different to Tegestology – the practice of collecting beermats or coasters. Although both are part of the wider hobby or practice of collecting brewery memorabilia (also called Breweriana).
The oldest known British beer label dates back to 1843 (although wine labels date back to the mid 18th Century) and featured an East India Pale Ale brewed by Bass of Burton-on-Trent.
Prior to the 1840s and the repeal of the duty on glass customers would have had their own bottles or flagons.
Bottled beers increased in popularity from the 1850s with the growth of the railways (bottled beer kept longer than cask beer, and was easier for people to carry with them).
Initially, beer labels were simply used as a method of identifying the brewer. However, they soon developed into an inexpensive and effective form of advertising. In a short space of time beer labels developed into a wide range of colours, shapes and designs.
It was not uncommon for breweries to mark special occasions and anniversaries by making a specially brewed beer – with appropriate labels. However, it is possible that some simply used commemorative labels on their normal product.
Below are some commemorative beer labels relating to events held in Hatfield.
Commemorative beer label for the King's Cup Air Race held at Hatfield on Saturday, 8 July 1933. This was the first major aviation race to be held at the airfield. The race was won by Captain Geoffrey de Havilland.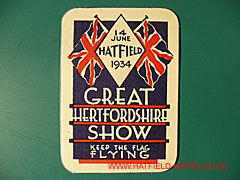 Commemorative beer label for the Great Hertfordshire Show held at Hatfield on 14 June 1934.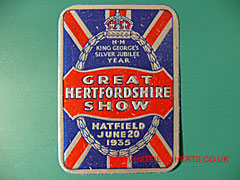 Commemorative beer label for the Great Hertfordshire Show held at Hatfield on 20 June 1935. As the label indicates it was 25th year in the reign of King George V. The next year, 1936, was 'The Year of Three Kings' – King George V died and was succeeded by King Edward VIII, who abdicated and was succeeded by his brother, King George VI.
Back to: Hobbies and Collections