Collections – Crested China or Crest Ware
Like many branches of souvenir collectibles, its success lies in the growth of the railways after the Industrial Revolution, the popularity of seaside holidays, and the growing wealth of Imperial Britain.
Crested China, as the name suggests, are small, porcelain objects in a variety of shapes and forms that bear a heraldic crest to represent the area in which they were sold as souvenirs. It is also known as Crested Ware, Crest Ware or Heraldic China.
Porcelain is vitrified pottery, and was first made in China during the Tang Dynasty (618-907 AD). Later, introduced to the West through the ancient trade routes, it became known as china.
It is a specialist area of collecting porcelain, which in turn comes under the even wider scope of collecting ceramics. Crested China collectors tend to focus on three areas of collecting: themed (like comic pieces); geographical area (like Hatfield pieces, or where a piece was made – which could be a town or pottery in it); or maker / trade name (like Arcadian, originally produced by makers Arkinstall).
Credit for the introduction of Crested China in the 1880s is usually given to Adolphus Goss, who worked for the family firm, W H Goss, and developed a range of small souvenir porcelain with a crest depicting the area it was bought in. However, his father, William Henry Goss, had earlier developed a range of crested china sold in areas where there was a public school or college.
If a location didn't already have a formal coat of arms then they created a crest for them – which seems to be the case for Hatfield, as the crest seen on Crested China is very different to the formal coat of arms used by Hatfield Town Council (founded 1894 as Hatfield Parish Council but that is not necessarily the date it was granted its coat of arms) or the Hatfield Rural Development Council (their coat of arms – used on the Hatfield Arms' pub sign and by the Hatfield Bowls Club – was only granted in 1945).
Apart from the area's coat of arms or crest, to further 'personalise' the design Adolphus also sought out inspiration in local museums. The end result was a series of small crested pots – the design and shape of the pots were either typical of that area or were based on historic pots (some dating back to Roman times) found there and on display in the local museum.
In 1893, Adolphus also introduced a range of coloured (painted) buildings based on real life examples (including Shakespeare's cottage) – in effect, creating the forerunner to the Lilliput Lane miniature replica buildings that are popular today.
Goss also added monuments and other items symbolic of the village, town, city or region to their range.
Sales of Goss Crested China was restricted to only one retailer (usually a single shop) in a particular area, and that area's crest design was only available for sale in that area. Later, competitors, like Arcadian, would offer their products through as many retailers as they could sign up.
The growth of domestic tourism enjoyed a boom thanks to the growth of the railways and a general increase in wealth. Goss Crested China soon caught on, and other companies also started making competitive products.
German companies had started producing items for the British souvenir market – before Goss – from at least the mid-19th Century. In 1905, it was said that German companies – using a photo or postcard for the design – could take the order, produce and deliver the items in two weeks.
By 1910 Crested China (or Crest Ware, as it was called in adverts of the day) enjoyed huge popularity.
The outbreak of WWI led to the end of German production of British Crested China. However, it gave rise to a new range of Crested China products based on a war theme, which included everything from new weapons of war (like planes, zeppelins, tanks, and submarines) to smaller more established items (like clips of bullets and grenades). Their production marked ones of those historical twists of fate – before WWI, German manufacturers had produced miniature soldiers and military models to commemorate the Boer War for British customers (as part of the Bazaar trade).
German production for the British market resumed after the war but not surprisingly they were not as successful.
The Coal Strike of 1921 led to a period of hardship for potteries, and the rising price of coal saw a number driven out of business. However, it was a period of expansion for Harold Taylor Robinson, who came to dominate the pottery trade – and not just in Crested China.
The Great Depression of the 1930's led to an end of the Robinson empire and the heyday of Crested China. However, there are small Crested China souvenirs still being produced today. Sadly, as with most of Britain's fine china brands, the bulk of these items – if not all – are produced overseas.
Perhaps, one day, there will be a change of heart, and the use of Protected Designation of Origin-style legislation (that applies to food and beverage specialities) to ensure famous fine china names, like Coalport, return to and are produced in the places that gave them their names.
Themes
Manufacturers produced Crested China in huge quantities and themes, apart from collecting a particular crest, some of the more common themes are:
Ancient artefacts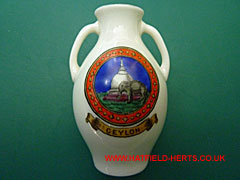 Adolphus Goss adapted an idea of his father's and used pots found in local museums for inspiration. Usually it reinforced the association between an area and its crest. However, the example shown here does not have an obvious link and the crest actually features a former British colony, Ceylon (now Sri Lanka). The crest features an elephant in front of a Buddhist dagoba (shrine), but it is not thought to be an official crest.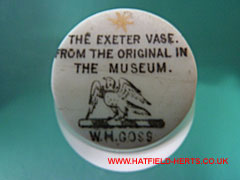 The bottom reveals that it is 'The Exeter vase. From the original in the museum', and the W H Goss family emblem. The style suggests it dates between 1862-1930. The gold star-like mark is believed to be an identification mark of the painter.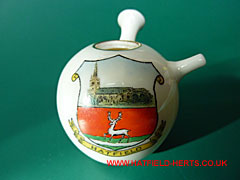 Grafton Crested China Chinese teapot. Missing its lid so as a collector's item it is greatly reduced in value.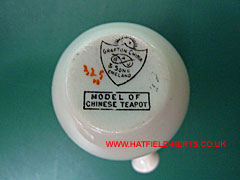 The underside shows the Grafton China logo (trade name of A B Jones & Sons – with the interwoven ABJ initials). It also bears a mark 'Model of Chinese Teapot' in black and a red design number (325) and quality control / painter identifier (N) in red. The style of the mark dates the piece to 1915-33. However, a guide book indicates that this model had the design number 77. Also, it is usual for the design number and identifier to be in black. This may be a later piece or a fake.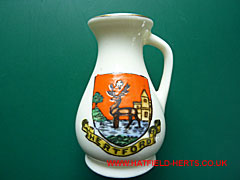 Arcadian Crested China vase / single handle jug with Hertford crest. Believed to be a made up rather than official coat of arms. It is not clear whether it is based on a historic jug (like Goss designs).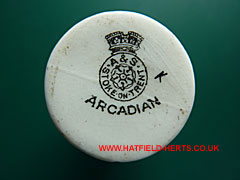 Underside reveals the maker's marks. Arcadian was the trade name of Arkinstall & Son (founded by Harold Taylor Robinson in 1903). This style of logo was introduced in 1912 (although the style of the Arcadian name suggests a later date). The 'K' probably being a quality control / painter's mark.
Buildings and monuments
Another view of the Grafton China Cottage shown at the top of the page. While there were accurate replicas of location buildings in Crested China ranges, this is probably a generic model issued with a Hatfield crest rather than based on an actual local property.
The underside shows the Grafton China logo (trade name of A B Jones & Sons – with the interwoven ABJ initials). The style of the mark dates the piece to 1915-33.
Birds and animals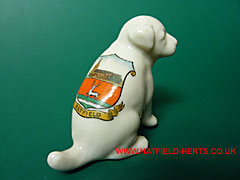 Grafton Crested China dog. Actually a Labrador puppy (the breed used in Andrex toilet paper commercials).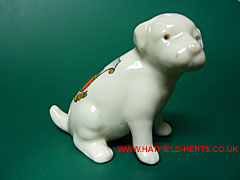 Guide books indicate that this model should have yellow or green bead eyes. This example is clearly missing them – something that greatly reduces its value to serious collectors.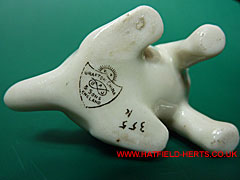 Underside shows the Grafton China logo (trade name of A B Jones & Sons – with the interwoven ABJ initials). The style of the mark dates the piece to 1915-33. The design number, 355, should help narrow it down further. Quality control identification mark 'k'.
Home / Nostalgic
Arcadian Dressing Table, Swing Mirror with Drawer, with gilt trimmings.
Underside shows the Arcadian logo and name, and red paint marks which are probably quality control / painter's marks.
Military figures and models / Great War (WWI) souvenirs
Grafton Crested China 'German gun captured by British'. The wheel of the gun on the opposite side is plain. There is a gilt trim around the barrel and other places.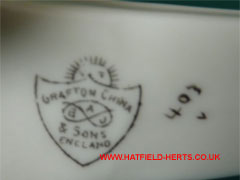 Underside shows that this is another Grafton China piece. The '403' by the maker's logo is the design number (the highest number is 737 but there are said to be missing numbers in the series). Grafton introduced their range of Great War souvenirs in 1919. So this narrows the date range to 1919-33. The 'v' underneath the number is thought to be a quality mark identifying the painter.
Click here for Crested China – Part 2
Back to: Hobbies and Collections