Collectibles – Bottles
A bottle is generally considered to be any narrow necked container – now usually glass or plastic – used to store or carry liquids. In Britain, early bottles were made from stoneware or leather. While many collectors focus on bottles used for drinks – wines, spirits, beer and mineral waters – bottles were also used for other purposes. However, beverage bottles are probably the commonest form of Hatfield-related bottle – thanks to the Hatfield Brewery.
Stoneware
Stoneware originated in China around the time of the Shang Dynasty (c.1400 BC). Basically, it is pottery that has been fired to such a high temperature (around 1,200 degrees centigrade) that the clay vitrifies ie. becomes glasslike and waterproof. Stoneware has been made in Britain since the 17th Century. Stoneware bottles were fairly widely used by the 1820s for beverages like cider and ginger beer.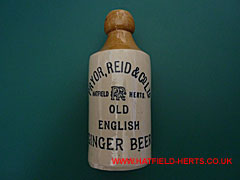 'Pryor Reid & Co Ltd, Hatfield, Herts' branded Old English Ginger Beer two-tone, glazed stoneware bottle. The honey and cream colour is typical of English stoneware bottles. The print details and logo and rather crude finish suggests it dates around 1880-1900. By around 1920 Ginger Beer was mainly sold in glass bottles
Close up of the print details on the front of the bottle. There are no maker's marks visible on the bottom.
Glass is made by heating a mixture of sand, soda and lime.
Adding other elements and compounds in different quantities and at different temperatures enables the production of clear or coloured glass.
Glass
While early bottles were made from leather or stoneware (pottery), glass bottles are probably the most popular as they exist in greater quantities and varieties than other types.
Although there is natural glass (mainly of volcanic origin, like Obsidian) manufactured glass dates back to the Egyptian civilization around 5,000 years ago.
Glass is thought to have been introduced to Britain following the Roman invasion of 55 AD. While the Romans imported large amounts of glass there was only a very limited amount made in Britain.
Large scale manufacturing of glass only become common in Britain following the arrival of skilled European immigrants in the mid-1500s.
They settled in the south of England and soon started making window, table glassware and the first commercial glass bottles.
Initially they used timber as fuel for their furnaces but switched to coal early in the 17th Century. By 1696 there were some 40 glassworks producing around 3 million bottles every year in Britain.
Wine was the first major drink to be sold in bottles, and early bottles had a rounded base in order to keep the cork moist to maintain an airtight seal.
In 1703 a trade treaty with Portugal led around around 66 per cent of wine sold in Britain being imported from that country. Port needs to mature in the bottle and merchants soon started complaining that the original bulbous bottles took up too much space, and often rolled off the shelf and broke. This led to the development of the straight-sided, cylindrical bottle shape that is so familiar today.
Uses for bottles
Baby Feeders
Glass baby feeding bottles are still common today as they can resist the high temperatures needed to sterilise them better than plastic ones. Some 19th Century baby feeders were made from porcelain (incidentally, milk was first sold in bottles in 1884 but bottled milk only became popular after 1918 – as people preferred to buy milk from the milkman's churn).
Beer bottles
Glass beer bottles only started appearing around 100 years after they were used for wine – even though it was known that it could preserved for long periods in bottles before the 17th Century. Taxes on beer and glass, are thought to be the reasons that bottled beer only became popular in the 19th Century – also probably helped by the arrival of the railways.
Early bottles resembled the bulbous shape of wine bottles (the straight-sided cylindrical shape becoming popular in the 19th Century).
Developing a satisfactory method of sealing the bottle (hampered by the build up of gas due to fermentation) led to experiments with tied corks, wired on corks and metal clamps with cork and stone stoppers.
In 1872, Henry Barrett, an Englishman, developed the internal screw stopper, which was highly successful. While William Painter, an American, invented the crown cap still widely used today in 1892.
10-inch (25cm) clear glass, stoppered beer bottle. Embossed "Pryor Reid & Co Ltd", logo "Hatfield, Herts". Limited liability companies only appeared after 1855 and internal screw-tops only appeared after 1872. While the presence of air bubbles in the glass (in areas, like the neck, where the molten glass was stretched the bubbles have a spindle shape and are called 'tears') are signs that the bottle was hand blown and not machine made, which suggests a date range of 1872-1910 for this bottle.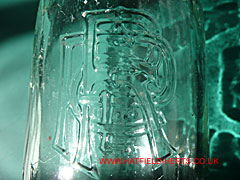 Close up of the Pryor Reid & Company Limited logo. Embossed lettering and logos were created by blowing the molten glass inside a two-part hinged metal mould (by the 1890s most bottles were embossed. Although in this example the logo part is incised). The joint between the two halves runs down the side of the bottle.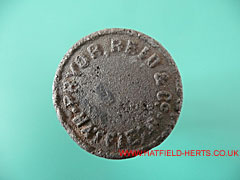 Top of the stopper, embossed: "Pryor, Reid & Co. Hatfield"
Back to: Hobbies and Collections