Images of Hatfield – Sunrise
This section contains photographic images taken in Hatfield around sunrise.





Some early morning views of Hatfield on a cold but beautiful morning.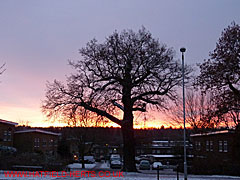 Oak tree between Woods Avenue and The Pastures with the sun rising over Hatfield Park in the background.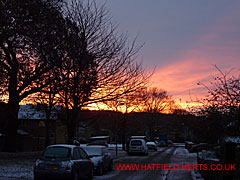 The view from Elm Drive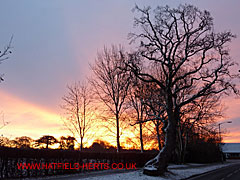 The surviving twin oak (the stump of its sibling has a dusting of snow) on Briars Lane.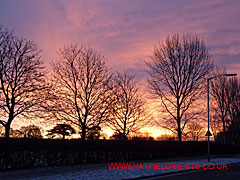 Another sunrise view of trees and the hedge of Bishop's Hatfield Girls' School seen from Briars Lane.
Sunrise over The Galleria entertainment complex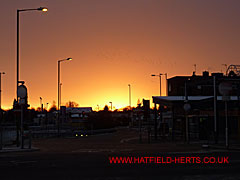 Sunrise view from Tamblin Way with Jet Liner Drive and part of the bus station visible
Back to: Hatfield Photo Gallery
Back to: Hatfield Photo Gallery – Part 2