Images of Hatfield – Trucking Hatfield
This section contains images of trucks passing through, in and around Hatfield and surroundings.









Historically located on the main route from London to Scotland, Hatfield has a number of major roads – including a section of the A1M motorway – and transport depots. All of which make it something of a truckspotter's paradise.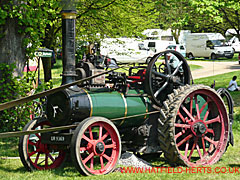 Steam powered traction engines were the first self-propelled trucks. UR9369 uses its flywheel to power a saw, via a belt, in a log cutting exhibition at Hatfield Park.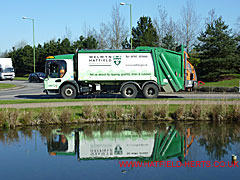 A familiar sight to local residents – Welwyn Hatfield Borough Council refuse truck (operated by contractors Serco).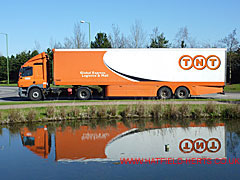 TNT truck and trailer – originally an Australian firm (Thomas Nationwide Transport, started by Ken Thomas in 1946), it is now the global public face of the Dutch Post Office, who bought control of the company in December 1996, and adopted the branding in 2005.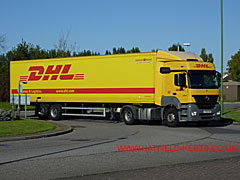 DHL Mercedes AY08 FEW (1840) rig with ECO 421 trailer coming from the DHL depot in Hatfield. DHL was originally an American company named after its founders: Adrian Dalsey, Larry Hillblom and Robert Lynn. It is owned by the German Post Office, Deutsche Post, who first took a stake in 1998. Following negotiations, they bought a majority interest on 1 January 2002.
Parcelforce Worldwide, part of Royal Mail Group, rig and trailer heading towards their Hatfield depot (Northern Home Counties Distribution Centre).
A trio of trucks make an informal convoy – also a visual statement on the UK postal and logistics market with a DHL rig closing in on a Royal Mail vehicle.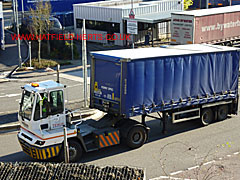 Tesco Terberg YJ55 CLY tug, in this case moving a soft sided trailer between yards. Tesco operates a depot at Welham Green (although all vehicle access is from Hatfield).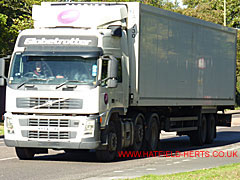 Gist Globetrotter KP54 CHY (or CHV). Gist is a logistics company owned by The Linde Group, a German firm named after its founder, Carl von Linde, a 19th Century professor at the Technical University of Munich and pioneer in refrigeration.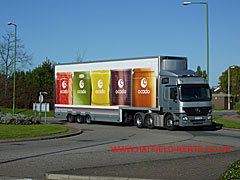 Ocado Mercedes 2546 petrol DK56 DWY rig with trailer coming from Ocado's main customer fulfilment centre at Hatfield.
Stobart Scania R420 PX58 BJF hauling a soft-sided trailer. Allowing drivers to name their trucks (usually after family and friends) is a characteristic of Eddie Stobart's firm. PX58 BJF bears the name 'Peta Jane' on its grille. The famous requirement that drivers had to wear a tie has been dropped.
DSV Scania R440 NJ10 HVM (2545) rig with soft sided trailer approaching the north end of the Hatfield tunnel on the A1M motorway, heading towards London. The vehicles by the crash barrier are actually parked in the usual southbound lane (closed while refurbishment work is carried out on the tunnel).
BP Mitchell Ltd Hind LK58 DJD cement mixer. The name above the cab appears to be 'Whatever' (if so, it reflects an amusingly different ethos to the friends and family naming system used by Eddie Stobart drivers).
Please note: if you're thinking of taking some pictures of your own, please do NOT use a flash or act in a way that would distract drivers.
Back to: Hatfield Photo Gallery
Back to: Hatfield Photo Gallery – Part 2