Images of Hatfield – Landmarks (North)
This section contains photographic images of some landmarks in the northern part of Hatfield.




Please note: divisions used are a rough guide and not based on the formal ward boundaries:
Northern Area (Incl. Hatfield Garden Village): Hatfield Avenue; Wellfield Road; St Albans Road East and A1000 Hertford Road.
Birchwood Leisure Centre and Hatfield Town Council Building – originally designed and built as a Leisure Centre, the Hatfield Town Council took up residence in 2008 after moving from Kennelwood House.
St Luke's Church, St Albans Road East – originally built as a funerary chapel for the original New Town that sprang up in Hatfield following the arrival of the railway in 1850.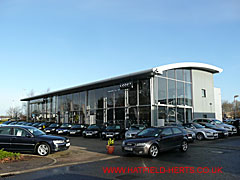 Audi Showrooms, Great North Road – one of a number of vehicle showrooms in this area. The site was once where toymakers Lone Star had their Hatfield factory.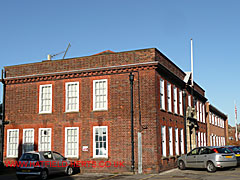 Former Hatfield Town Hall Building, St Albans Road East – Later used as Welwyn Hatfield Council offices. The offices and police station next door have been demolished and a care home and housing built in their place. The town hall building has been converted into flats.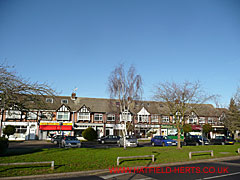 The Parade, Hatfield Garden Village – Hatfield Garden Village was originally built in the 1930s to house people working at the then newly opened de Havilland Aircraft Company factory (which moved from Stag Lane).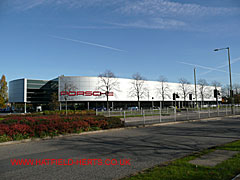 Porsche Showrooms, Hatfield Avenue – one of the new buildings located on the edge of what was once an airfield.
Back to: Hatfield Photo Gallery