Images of Hatfield – Leafy Hatfield (Close up)




This section contains photographic images of some close ups of leaves in Hatfield. It shows details which you generally don't see if you're whizzing around in a car.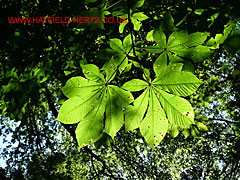 Horse-chestnut leaves – caught in the sunlight. Many common British tree species are under threat. Spots of mould are visible in this picture and proof that we cannot take our trees for granted.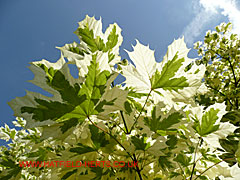 Variegated Plane Tree leaves – an unusual form can be seen on and around the Bishops Rise end of Woods Avenue.
Stag's-horn Sumach – native to North America but an autumn favourite in Hatfield.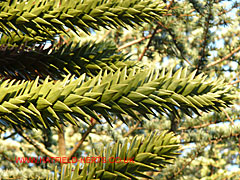 Monkey Puzzle, Ellenbrook area – incorrectly called Monkey Puzzle by the Victorians (no naturally occurring primates in its native Chile) who introduced it to Britain. An ancient species which developed its spiny leaves to deter hungry dinosaurs.
Plane Tree leaves – part of the autumnal colour display.
Leaf litter – marks the end of another year. Time to rest through winter and renew in Spring for many species (deciduous ones – evergreens, as the name suggests, keep their leaves).
Back to: Hatfield's natural beauty
Back to: Hatfield Photo Gallery