Images of Hatfield – Leafy Hatfield






This section contains photographic images of the tree canopies that decorate Hatfield.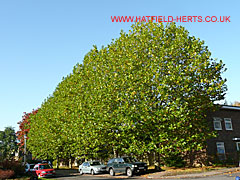 London Plane Trees – common around Hatfield town. Prized for their ability to trap particles of pollution in their bark, which they shed in small flakes. An environmental asset.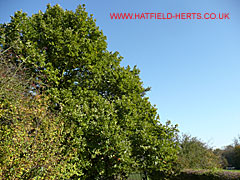 Mixed trees and shrubs – lining a footpath and border of a playing field.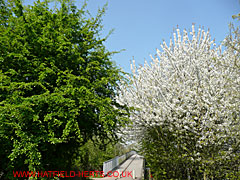 Spring blossoms – some trees, like Cherry, make their spring display a lot more noticeable than others. The tree on the left is also in bloom but its flowers are green.
Looking up into the tree canopy – close to the town centre these trees provide shade for one of the pedestrian underpasses.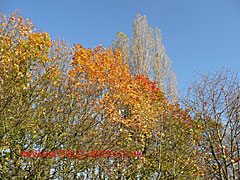 The autumn leaf spectacle – some species wait till later in the year to make their presence felt.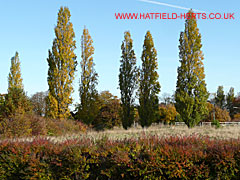 Poplars in autumn – sadly Poplars are another tree species that have been affected by disease and some of these are no longer standing.
Back to: Hatfield's natural beauty
Back to: Hatfield Photo Gallery