Major Incident (Fire) – 20 May 2011
A fire at Parkhouse Court in the morning of Friday, 20 May 2011 resulted in the emergency services declaring a Major Incident. Several fire appliances from across the county, including a support vehicle and ladder, and even more Police vehicles were in attendance. There were no reported injuries.
The seat of the fire appears to have been at the back of the Rainbow Nursery. All the children were safely evacuated.
At the time of publishing emergency services were still in attendance.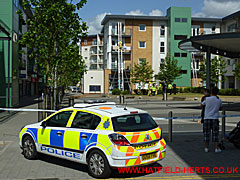 Police car and cordon line. In the background, firefighters have erected a ladder in front of the entrance to the Rainbow Nursery to a third floor balcony.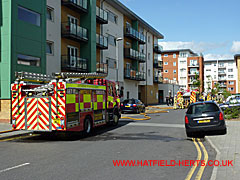 Fire appliances around the back. The engine closest to the camera is KX59 MGJ from Stevenage.
A closer view of KX59 MGJ.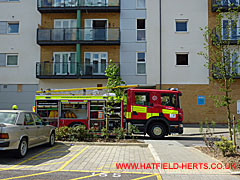 Ahead of KX59 MGJ was this fire engine from St Albans.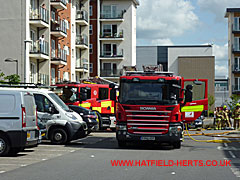 Round the back, closest to the seat of the fire was this Scania P280, KX60 EDF, from the Hatfield station. Behind it is another St Albans appliance.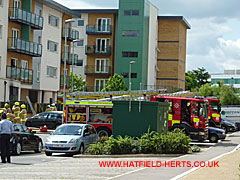 Another view of the scene – the engine closest is from Welwyn Garden City.
These fire damaged windows and smoke-blackened walls are the most visible signs of the fire.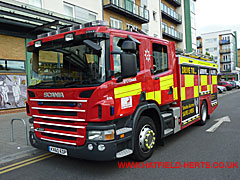 Near the Aldi supermarket was Scania P280, KX60 EDP, from Stevenage.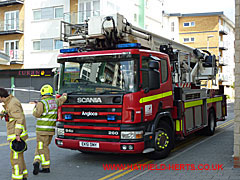 Scania P260 Angloco, EK5 DNY, aerial ladder platform (ALP) – front view, parked by the side of the Travelodge.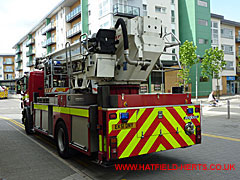 Scania P260 Angloco EK5 DNY aerial ladder platform (probably the F32RL, as it is mounted on a Scania chassis) – rear view.
Fire Incident Support Unit and Police car OU59 DHV at the scene.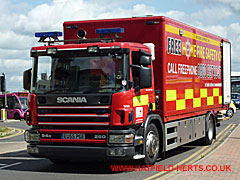 Scania 94D 260 Incident Support Vehicle EU55 PGE from Rickmansworth.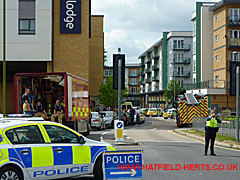 Police roadblock / diversion.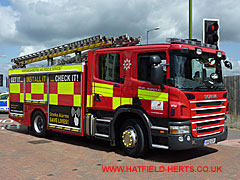 Scania P270, KX10 EDV, from Hemel Hempstead on Jetliner Drive.
Another view of the Hemel Hempstead Scania P270