Images of Hatfield – Ellenbrook Fields
This section contains images of Ellenbrook Fields Nature Park.
This 400-acre site was originally farmland before becoming part of the de Havilland (later British Aerospace) airfield at Hatfield. After its closure the land was used to film Saving Private Ryan and Band of Brothers, and for gravel extraction. Welwyn Hatfield Borough Council announced its opening as a nature park through a press release on 2 December 2010.
WHBC and St Albans City & District Council secured the land as part of the original planning permission given to Arlington Land (originally British Aerospace's property arm) for redeveloping the airfield in 2000.
Arlington Land's successor, Goodman, initially cleared and manage the site. A trust will be established to maintain it.
Please note: due to the uneven and clayey nature of the ground visitors are advised to wear hiking shoes or boots in dry weather, and wellingtons or hiking boots in wet. Although a number of former buildings and hazards have been removed there are still a number of potential trip hazards (like embedded pieces of metal, capped boreholes and building debris) to look out for. It is also advisable to wear long trousers for protection against nettles and thorny plants.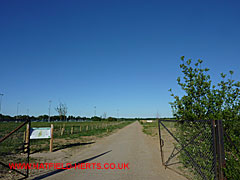 Entrance gates to Ellenbrook Fields seen here are located off Ellenbrook Park. A map and information board is located to the right. Stretching off into the distance is part of the former airfield track.
Poppies are just some of the wild flowers growing on the site.
Through the gates and further down the track. There is a turn off to the right with a path towards the hay meadow near Astwick Manor. Beyond this junction is a seating area and information board, and a cattle enclosure (just visible on the right side).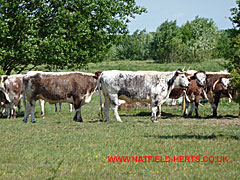 Longhorn cattle are used as a natural way of preventing the meadow areas from becoming overgrown. Please note: there are several fenced off areas for the cattle to graze. Gates can only be found along the paths.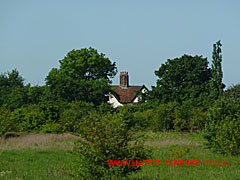 Popefield Farm, which borders the A1057 Hatfield-St Albans Road, visible in the distance.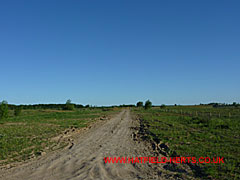 Dirt track leading off the airfield track towards the hay meadow near Astwick Manor. After heavy rain the ground here and at other parts of the site can become very muddy.
View of the hay meadow near Astwick Manor. Facing towards Smallford. Round Wood visible on the right.
The hay meadow extends past Astwick Manor, seen here through the trees, up to Coopers Green Lane.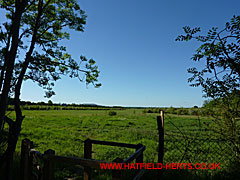 Entrance to Ellenbrook Fields from Coopers Green Lane. Please note: there is no provision for car parking near any of the entrances shown here.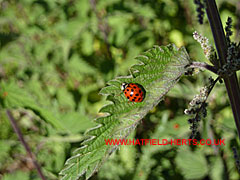 Beauty and the beast – Ladybird on a stinging nettle leaf. The fine hairs on stinging nettles contain a toxin which is released if you brush against it. Unless you are allergic it usually only causes minor discomfit but best avoided.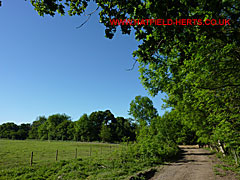 Section of the path bordering Round Wood / Home Covert (it's not clear where one ends and the other begins).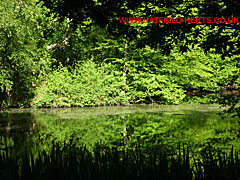 Inside the wood is this waterhole or pond. Possibly a site where lime would have been dug out to 'marl' the surrounding fields when the area was farmland (or it may even be a former sinkhole or bomb crater).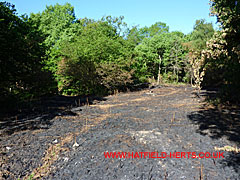 Please leave it as you found it for others to enjoy as well. This burnt tract of woodland is thought to have been caused by an illegal bonfire or campfire that got out of control.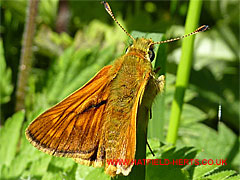 The woods and meadows are home to a variety of insects, animals and birds.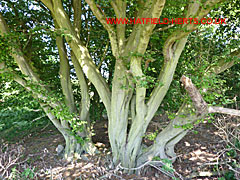 Reminders of ancient farmland. In the 1860's the Sinclair family moved to Hatfield to farm the land (later immortalised by H Rider Haggard in his work, Rural England). Visible in the woodland are these ancient Hornbeams, which have been coppiced and arranged to form a natural fence. This specimen was in part of the fenced off area of Home Covert by the path.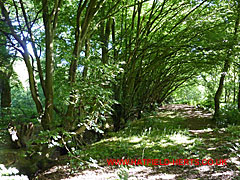 The ditch and straight line of Hornbeams show that these were not naturally occurring trees.
Near Home Covert is this reminder of the site's use for gravel extraction. Now fenced off, the waterlogged bottom serves as a reed bed. Gravel extraction is still going on around the park, and one of the paths crosses an enclosed conveyor belt taking the extracted material to the quarry works in Smallford.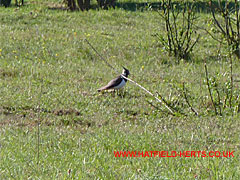 The woods and meadows provide food and shelter for a number of species of birds. Shown here out in the open is a Lapwing.
Back to: Hatfield Photo Gallery – Part 3