Images of Hatfield – Landmarks (East)
This section contains photographic images of some landmarks in the eastern part of Hatfield.



Please note: divisions used are a rough guide and not based on the formal ward boundaries:
Eastern Area (Incl. Airfield and Ellenbrook): Hatfield Avenue; A1001 Comet Way; A414 North Orbital Road.
The de Havilland Aircraft Company headquarters building – designed by the firm of James M Monro & Son of Glasgow, it originally opened in 1934. Now part of a Police and Court complex.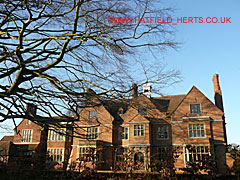 Great Nast Hyde House – dates back to around the late 16th Century. Once used by the de Havilland Aircraft Company, now a private residence.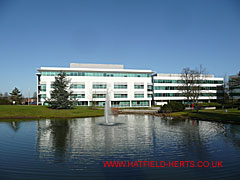 MacLaurin Building, University of Hertfordshire, and part of the Bishop Square office complex – the complex is named after aircraft designer Ronald E Bishop, whose most famous creation was the DH.98 de Havilland Mosquito which made its maiden flight from Hatfield.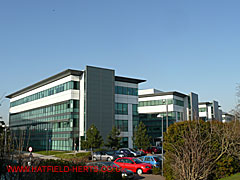 T-Mobile head office complex – part of the new developments on the old airfield.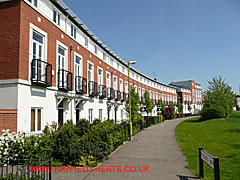 New houses, Mosquito Way – Hatfield airfield was very important social centre during the Thirties although few traces remain. This is some of the new housing built on the site.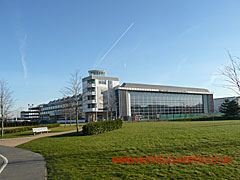 Comet (Flight Test ) Hangar and Control Tower – now used as a leisure centre and gym, the world's first commercial jet airliner was built here. Designed in the 1950s by James M Monro & Son, the architecture firm that designed the original factory buildings in the 1930s (this is possibly one of their last commissions as the firm closed in 1955).
Back to: Hatfield Photo Gallery