Images of Hatfield – Landmarks (Central)
This section contains photographic images of some landmarks in the central part of Hatfield.






Please note: divisions used are a rough guide and not based on the formal ward boundaries:
Central Area (Incl. Town Centre): A1001 Comet Way; Wellfield Road; A1000 Great North Road; Oxlease Drive; Woods Avenue; Bishops Rise; Cavendish Way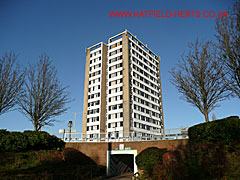 Queensway House – one of two residential tower blocks that dominate the Hatfield skyline. Officially opened in September 1962.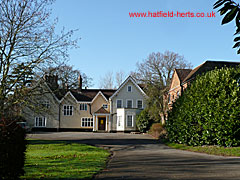 Old Rectory – one of the oldest and best documented buildings in Hatfield. Older than Hatfield House, parts date back to the time of the Bishops Palace (although the building has substantially been altered over the centuries). The site is being redeveloped.
Hatfield Swim Centre – opened by the 6th Marquess of Bath (the Exeter arm of the Cecil family), an Olympic athlete who was portrayed in the film Chariots of Fire (although the two athletes never actually raced head to head in real life). Its centrepiece is a 33m swimming pool, while its revolutionary roof was the largest of its kind in Europe.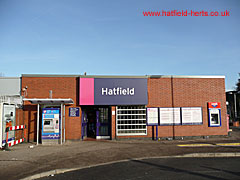 Hatfield Rail Station – Hatfield was once a major station and rail terminus, with a steam shed, sidings and a turntable. Little remains but the offset platforms are a rarity on Britain's railways.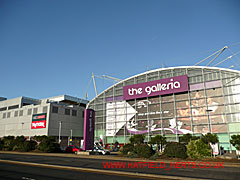 The Galleria – when it opened in 1991 it was Europe's largest shopping mall. This is the southern end that can be seen from the A1M motorway before entering the Hatfield Tunnel when travelling from London.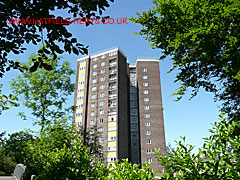 Goldings House – other of the two residential tower blocks that dominate the Hatfield skyline. This 14-storey tower block was formally opened in May 1968.
Back to: Hatfield Photo Gallery