Roy Cross – artist and author
Introduced to art by an aunt who lived at Smallford, his natural talent and ability helped him play a modest yet important role as a youngster in WWII. As a commercial artist he captured the imagination of generations of young boys and helped establish Airfix as one of Britain's leading toy brands of the 1960s and '70s – mainly through his aviation art (and immortalised Hatfield in the process). Turning to the fine arts he became a marine painter, and today he is recognised as one of the finest in the field (and in aviation art). However, his contribution to aviation literature and history is less well documented, as is the poignant fate of his aunt's son, his much-loved cousin Sidney, who like so many of his generation never grew old.
Early Years
Roy Cross was born at Camberwell, London on 23 April 1924.
As a young lad he recalls how he and his younger brother frequently spent the long summer holidays with 'Aunty Nell' who lived at Station Road, Smallford (in between Hatfield and St Albans, the actual house is no longer standing).
On rainy days he would sit in her conservatory and read her books on art. He was inspired by the works of Constable, Turner, Frederick – Lord Leighton and Sir Lawrence Alma-Tadema and other great masters. And even later in life the work of great artists helped develop his own abilities (although he is less impressed with today's 'household' names). In particular, he singles out Montague Dawson for marine subjects, Frank Wootton for aviation and cars, and Terence Cuneo for figures and railways.
A treasured memory is of being taken across the fields by Cousin Sidney (who was more than 12-years his elder) to the de Havilland airfield at Hatfield. Roy cannot recall the date but remembers that there was a party atmosphere as if a special event was taking place.
As a child growing up in what many consider to be the golden years of aviation, Roy had a regular diet of news about the exploits of aviators, who had the level of fame and celebrity that today's premiership footballers receive. Boys' and aviation magazines – like Popular Flying, Flying Aces, Air Trails and Meccano Magazine – were often full of exploits of airmen and women (like James 'Jim' Mollison and his wife Amy Johnson, a famous aviatrix in her own right – who were the 'Posh' and Becks' of their time), and articles on the latest aircraft.
In this era, books and magazines relied on the efforts of artists to depict the heroic exploits of aviators and their aircraft. These artworks, often used for their covers, were designed to be eye-catching. They certainly inspired young Roy, who remembers poring over the work of people like James Hay Stevens (also involved with Skybirds aircraft construction kits. Made from Balsa wood, and said to have introduced the 1/72 scale ie. 1 inch = 6 feet / 72 inches), Howard Leigh (younger brother of Doris, Captain W E Johns' partner following the break up of his marriage, and who was encouraged by Johns to become an aviation artist), Frank L Westley, Algernon Rowe, Stanley Orton Bradshaw and Leonard Bridgeman (who illustrated Major Oliver Stewart's book, The Clouds Remembered).
While aircraft in action has become the recognised face of aviation art there is another side and that is line drawing (basically pen and ink and no colour so all the detail has to be drawn in great detail), and the more technical, highly-detailed cutaway (basically removing sections of the aircraft's skin to reveal the workings underneath).
October 1935 – Enrolled at Reay Central School, Hackford Road, SW London, after failing his 11-plus exams. The headmaster was Arthur Tasker MBE. It was here that Roy had his first formal art lesson.
1938 – With storm clouds gathering across Europe in the lead up to WWII, 14-year old Roy joined the Air Defence Cadet Corps (later called the Air Training Corps). Eventually, becoming a cadet in No.343 Camberwell Squadron. Promoted to Flight Sergeant for 'general efficiency'. Roy also found he was a capable draughtsman and was engaged by the ATC Gazette (the Corps publication). He was also selected to be 343 Squadron's lecturer on aircraft recognition.
In his book Celebration of Flight, Roy cites the work of Max Millar and James Clark as being among his favourites and inspiring technical artists. Max Millar ran the art department at Flight magazine, and is regarded as a founding father of technical cutaways. James Clark worked for the rival publication, Aeroplane (both men also did work for motor magazines). And it was on the technical side that Roy made his entrance into the world of of aviation art (although he also did general illustrative work).
He wrote to the editor of Popular Flying, Captain W E Johns (better known as the children's author who created the famous fictional airman, Biggles), and sent him a three-view aircraft plan (basically a line drawing of the aircraft from different angles: head on, side on, and directly above and / or directly below) of a Nieuport Scout biplane. Although his artworks weren't accepted for publication, he did receive a "very nice letter" from the famous author.
World War II
3 September 1939 – Roy had been evacuated from his home in London to his Aunty Nell's at Smallford. He remembers Prime Minister Chamberlain's declaration of war over the radio and her distress at the news. Perhaps she had a presentiment of what was to come.
The exact date of his enlistment is not clear but Sidney, who had previously wanted to go into the Royal Navy (following in his grandfather's footsteps) and had been refused permission by his mother, took the opportunity to join up. A decision that was to cost him his life.
[Please note: Sidney, the fate of his ship and its role in the battles for Malta, the Mediterranean and North Africa will be developed as a separate feature]
Roy's school was evacuated to Berkshire in anticipation of German bombing raids on London.
1940 – recognising that he was not cut out for an academic career, at his father's suggestion, Roy left school before his sixteenth birthday and returned to London. He got his first job – working for a shipping agent at Lower Thames Street, a Danish company called All Transport & Storage.
February 1941 – Roy sent Leonard Taylor (Secretary of the Air League and the editor of the Air Training Corps Gazette) sketches an article on the new US fighter aircraft being adopted by the RAF in his guise as a member of 343 Squadron, ATC (the sketches were eventually published in April the following year).
April 1942 – Roy applied to join the drawing office at Flight magazine. Managing editor Geoffrey Smith while praising his work turned him down when he learnt that Roy was expected to get his call up in the next six months. In the meantime, he had left the shipping job and was working for International Stores, retailers in the City. Roy's poor eyesight meant he would not be able to enlist as aircrew, and he left the Air Training Corps. However, the sketches he had submitted a year ago were published in the ATC Gazette. These were the first of many sketches and articles to appear in this publication.
ATC Gazette, Vol. II, No. 4, April 1942, featured a double page spread with six line drawn aircraft (Lockheed Lightning, Fairey Fulmar, Bristol Beaufort, Bell Aircobra, Bristol Beaufighter I, and Handley Page Halifax I) and the following credit: "Drawn by Cadet-Flight Sergeant Roy Cross, Camberwell, Squadron, Air Training Corps".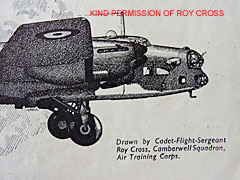 A number of smaller illustrations are used to break up the text in a single page article – The Spice of Life – by Wing Commander G H Keat on page 31, where Roy is credited as the artist (Wing Commander George Henry Keat was the first Assistant Commandant of the Air Training Corps. Born in 1895 he died in 1986, aged 91). Coincidentally, the first article in this issue, Hot Fury or Cold Logic?, was written by Captain W E Johns.
1942 was an important year for Roy in other ways: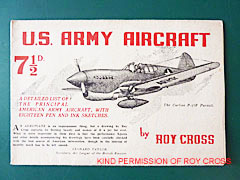 – His first complete work, US Army Aircraft – a fold out leaflet – was published after his eighteenth birthday.
– He received Air Ministry approval as an approved representative for press visits to RAF airfields, which allowed him to sketch aircraft (and he was featured in a London paper in their 15 April edition). On a visit to Croydon he had lunch in the 414 Squadron mess after sketching their Tomahawk fighters. It was also at Croydon that he saw his first Mustang fighters and had his first flight in an RAF aircraft – a de Havilland DH.89 Dragon Rapide, called the Dominie in RAF service (as was the later HS.125, which also started life as a de Havilland design).
Waiting to be called up as a Aircraftsman Second Class wireless mechanic, one of Roy's art heroes and fellow ATC Gazette contributor, James Hay Stevens – who was also an aeronautical engineer, working at the Ministry of Aircraft Production – persuaded him that his talents would be of more use in the aircraft industry and gave him a letter of introduction.
Roy got a job working in the technical publications department at Fairey Aviation Company Limited, Hayes, Middlesex, where he was one of their first illustrators. He also visited their Great Western Aerodrome at Harmondsworth (better known today as Heathrow). Roy went on a production test flight of a Fairey Albacore piloted by their chief test pilot C S Staniland (who took part in a number of displays and races at Hatfield).
Summer 1943 / 1944 – publication of the Birth of the Royal Air Force by Air Commodore J A Chamier, which was Roy's first commission to illustrate a book. It contains 23 line illustrations (4 – including the frontispiece – are signed 'Roy Cross', 7 just 'RC', and the remainder are unsigned).
Air Commodore Sir John Adrian Chamier CB, CMG, DSO, OBE and the Air Cadets
Born on 26 December 1883 in India. Educated at St Paul's School and Sandhurst. First saw action with the British Indian Army in Somaliland (Somalia) in 1904. 22 October 1912 qualified as a pilot on a Caudron biplane at Hendon while still a Captain of the 33rd Punjabis. Although he is reported as having served in Egypt in 1914 with the 31st Indian Infantry Brigade before he switched to the air force in 1915 and served on the Western Front until the Armistice. Received a Mentioned in Despatches and the DSO for his service in WWI.
1919 received a permanent commission in the RAF as a Wing Commander. Attended the first Limitation of Armaments conference in Washington in 1921 as a technical air expert. Later that year served as Deputy Director of Operations and Intelligence at the Air Ministry. Went to India with Sir John Salmond. Briefly returned to England then served as Chief Air Staff Officer in India for several years. Returned again to England and served as Director of Technical Development at the Air Ministry, 1927-28. Resigned his commission at the end of 1928. Worked as Technical Director for Vickers Aviation Limited and Supermarine Aviation (Vickers), 1929-32. Undertook an extended tour of the Continent, USA and Canada studying aviation developments before returning to Britain.
Appointed Secretary-General of the Air League of the British Empire in May 1933. It was in this role that he played a pivotal role in launching the Air Cadets (the military cadet movement dates back to the mid 19th Century). The Air Defence Cadet Corps (ADCC) was launched on 1 February 1941. Although a committee to promote it only appears to have been elected following a meeting at Londonderry House, London in April 1938 at which he was present. He was recalled to the RAF in September 1939. Became Commandant of the Air Training Corps when it was formed from the ADCC in 1941. An editorial in Flight magazine in 1941 commented: "We feel that the Air League of the British Empire in general, and Air Commodore Chamier in particular, deserve the thanks of the nation for having had the foresight and courage which have now borne such excellent fruit". The ATC exists to this day, with 2203 (Hatfield & de Havilland) Squadron based at Woods Avenue.
Air Commodore Chamier was knighted in 1944. 'The Birth of the Royal Air Force' was his only book. He died on 3 May 1974.
Click here for Part 2, 1944-1974
Click here for Part 3, 1975-1998
Click here for Part 4, 1999-2012
Back to: Features on Hatfield12 October 2012