Dr Lokusatu Heva Sumanadasa – pilot, engineer and educator
Aviation at Hatfield meant the town changed from being a stop on the UK's main north-south road and rail routes to an international location. Training facilities – the flying school and technical college – also attracted people from far and wide. L H Sumanadasa was one of those who came from far away – and he went on to establish his own claims to fame.
Born 3 December 1910 in Ceylon (now Sri Lanka), Lokusatu Heva Sumanadasa's family home was in Ambalangoda, a town 50 miles south of the capital Colombo.
A brilliant student, after completing a degree in Physics at Ceylon University College, he won the Ceylon Government Scholarship to study aeronautical engineering at Imperial College, London in 1932.
While he was still a student he learnt to fly with the London Aeroplane Club at Hatfield. His instructor was none other than Geoffrey de Havilland Jr.
He made his first solo in early 1934, and passed his A licence on 13 April 1934 (flying a DH.60G Gipsy Moth with a Gipsy II 120hp engine). He was duly issued with his Air Ministry private pilot's licence (shown below) on 21 April 1934.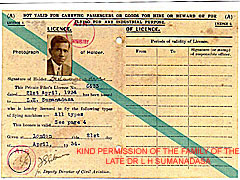 He is believed to be the second Sri Lankan to gain an A licence.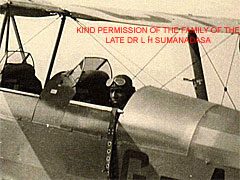 These photos of Dr Sumanadasa were presumably taken after he had qualified, as the aircraft has the sloping struts characteristic of a DH.82 (DH.82A if it has a Gipsy Major 130hp engine or later) Tiger Moth
At the time he was living at 112 Gower Street (famous as an Indian student hostel – although the original building was demolished and the site is now occupied by a University College of London faculty building).
He joined the Royal Aeronautical Society as a student in 1935 (becoming a full member in 1940).
After graduating with a BSc and DIC (postgraduate Diploma of Imperial College) – the first person from Sri Lanka to qualify in aeronautical engineering – he was hired by Handley Page Ltd.
He worked for Handley Page from 1936-42. Initially as a junior technical assistant, then as a senior technical assistant in the design office.
Among his colleagues at Handley Page were:
J McKenna chief draughtsman.
Godfrey Henry Lee joined in 1937 as a stressman, chief designer in the 1960s). Best known for his work on the Handley Page Victor. He was also an accomplished glider pilot and chairman of the London Gliding Club.
Raymond H Sandifer joined in September 1927 from Boulton & Paul. Retired in 1968 as assistant chief designer (structures), and was succeeded by Frank Tyson (also a colleague of LHS).
Lokusatu Heva Sumanadasa married in 1939.
A trained pilot, when war broke out, he volunteered his services to the Royal Air Force. However, a potential commission with the RAFVR was cancelled when Handley Page refused to let him go (as the letter below shows – although his technical and HP works knowledge meant it was unlikely he would have been allowed to fly over enemy-held territory in case he was captured).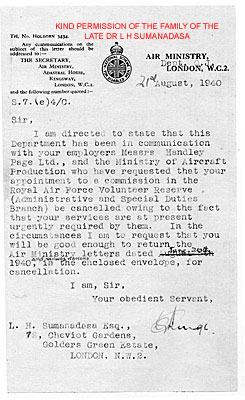 12 Cheviot Gardens – seen here in 2010 – was close to Handley Page Ltd's Cricklewood offices (where the HP.56 Halifax prototype L7244 was created). The company also operated an airfield at Radlett in Hertfordshire (close to Hatfield).
Pilot Officer Ananda Kularatne
In a tragic twist of fate, Ananda Kularatne, a fellow countryman whose family came from the same town in Sri Lanka (and was known to Lokusatu Heva Sumanadasa before the war), had also learnt how to fly – in Sri Lanka (then Ceylon) in 1941 according to one source.
Like countless thousands across the globe, he volunteered to fight for Britain as a loyal member of the British Empire.
The cold of winter must have come as a shock to the system when he arrived in Britain in late 1941.
Unlike LHS, he was accepted into the Royal Air Force for combat operations and trained as a pilot (service number 158038). He was posted to 102 Squadron, based at Pocklington in Yorkshire, and flew the Handley Page Halifax as part of the bomber offensive against Germany.
According to an online biography he met and married a WAAF, who bore him a son – who sadly never got to know his father.
Pilot Officer Ananda Kularatne was shot down and killed during a raid on 16 February 1944. His body was never recovered.
Three years into the war and pessimistic about being allowed to fly with the RAF, Lokusatu Heva Sumanadasa, together with his wife and family, returned to Sri Lanka in October 1942.
After his return he worked in a senior role for the Ceylon Plywood Corporation in Gintota. Later on he became the government engineer for the southern coastal city of Galle.
In the Fifties he took up the role of Head of Civil Engineering at the Ceylon Technical College (CTC).
From 1958 he worked with the Ministry of Education to establish the Institute of Practical Technology at Katubedde, Moratuwa, which opened in 1960 with LHS as founder principal.
Institute of Practical Technology, Ceylon
The institute, founded in 1960, initially offered Junior Technical Officer courses that had previously been the preserve of the Ceylon Technical College (CTC) – originally the Government Technical School, which dated back to the 1890s.
It had a relatively short life as it was merged with the Ceylon College of Technology (CCT) in 1967.
Ceylon changed its name to Sri Lanka in 1972.
1966 – became the founder director of the Ceylon College of Technology (CCT).
1972 – CCT became the University of Sri Lanka, Katubedde Campus, and he became its first president.
1974 – became the Vice Chancellor of the University of Sri Lanka, and retired the next year.
In 1978 the University of Sri Lanka's Katubedde Campus became an independent university – The University of Moratuwa, Sri Lanka.
In 1980 the University of Moratuwa honoured its founding father with an honorary doctrate.
Dr Lokusatu Heva Sumanadasa died suddenly on 24 May 1986, he was aged 75.
The Sumanadasa building, named in his honour and built in 1973, remains in use and is one of the largest on the University of Moratuwa site. In 2009, in a global ranking, it was deemed to be the top university in Sri Lanka and 11th in South Asia. So the legacy of a young man who took to the skies above Hatfield, all those years ago, continues to soar to new heights.
Acknowledgements
Thank you to the family of the late Dr Lokusatu Heva Sumanadasa for providing the background information and copies of documents. Special thanks to his son, Ananda Sumanadasa, for his patience in answering numerous questions.
Back to: Aviation and Aerospace