Moorhouse, Rhodes and Rhodes-Moorhouse VC, DFC – Part 2
Linda and son William
The Rhodes-Moorhouses enjoyed considerable wealth and moved around in the top reaches of society (including trips to exclusive Swiss resorts, like St Moritz). After William's death it appears that Linda Beatrice Rhodes-Moorhouse and her son William Henry Rhodes-Moorhouse continued to do so. Probably helped by the sale of Parnham House and the VC widow's pension. They lived in Knightsbridge and there are numerous press references to Linda hosting balls and attending society events in Britain and abroad.
Geoffrey de Havilland's Moth designs and the exploits of people like Amy Johnson (who flew solo to Australia a short time after learning to fly) made aviation a mainstream activity in the 1930s.
Once a passenger on her husband's historic crossing of the Channel, Linda qualified as a pilot in her own right on 25 June 1931, at the age of 45, flying a DH Moth.
However, she was beaten to it by son William, who qualified as a pilot, aged 17 and still going to school at Eton, on 8 April 1931 (he rowed for Eton earlier that year). Around the same time some future famous names, like H M A Day ('Wings' Day of The Great Escape) and designer George H Miles, also qualified as pilots.
In March 1932, Linda and son William watched the Oxford-Cambridge Boat Race from above in their DH.60G G-ABOA. The following month Linda was one of the competitors in the 1932 King's Cup Air Race. The field included a host of famous names, like: Geoffrey de Havilland, Alan Samuel Butler (DH chairman 1924-50), his wife Lois, and future Comet Racer DH.88 designer A E Hagg.
Although, so far it has not been possible to find confirmation, it is more than likely that Linda and William would have visited Hatfield, which was home to the London Aeroplane Club and the de Havilland Aircraft Company, and hosted the following King's Cup Air Races till the outbreak of WWII.
In October 1933, young William inherited his father's estate of a quarter of a million pounds (a huge sum in those days). He enjoyed a privileged life and was a keen winter sportsman. He is also reported to have qualified for the British Winter Olympics team of 1936 (and would probably have met future squadron mate and the most famous Great Escaper Roger Bushell).
William married Amalia Demetriadi, the only daughter of Sir Stephen Demetriadi KBE, on 15 September 1936 at Marylebone (Amalia is reported to have been approached by a talent scout looking for someone to play the role of Scarlett O'Hara in Gone with the Wind but had not been interested in becoming an actress). Earlier in the year they had holidayed together in St Moritz, along with Linda. However, time was fast running out on their idyllic lifestyle as war loomed again.
In January 1937 he became the largest shareholder in St Merryn Aerodrome Limited along with Henry Bevington Legge, Geoffrey Bevington Legge, and Philip Henry Bevington Legge (Lieutenant Commander P H B Legge was killed on 21 November 1940, aged 37. By the beginning of 1942, with two of the four directors dead, the company was voluntarily liquidated).
William goes to war
William was commissioned as a pilot officer (90140) in No.601 'County of London' Fighter Squadron, Royal Auxiliary Air Force on 28 July 1937. 601 Squadron was dubbed 'The Millionaires Squadron'. Its commander Lord Edward Grosvenor reputedly only recruited gentry who were members of White's (London's oldest gentlemen's club, named after its founder, 17th century Italian immigrant Francesco Bianco, who changed his name to its English equivalent – Francis White).
At the start of WWII, 601 Squadron, equipped with the Bristol Blenheim Mk.I, moved to Biggin Hill. From here it carried out an attack on the German seaplane base at Borkum in November 1939. At the end of December the squadron moved to Tangmere and re-equipped with the Hawker Hurricane Mk.I. Units of the squadron operated over the continent during the Battle of France. During this period William flew some missions from his father's old field at Merville. He was credited with his first 'kill', a Heinkel He.III, on 18 May 1940. His second, a Messerschmitt Bf109, came while flying Hurricane N2568 four days later. The squadron moved back to Middle Wallop on 1 June 1940 but returned to Tangmere before the month was out.
William was photographed at Tangmere by Charles E Brown (the father of aviation photography, who made a number of visits to Hatfield during his career) in July 1940. He was also drawn by RAF war artist Cuthbert Orde wearing the ribbon of the DFC.
William's award of the Distinguish Flying Cross was gazetted on 30 July 1940 (but announced in The Times the day before), the citation mentioned that he had been flying on combat operations since November 1939 and had shot down five enemy aircraft (the British total for achieving ace status).
On 11 August 1940, his brother-in-law and squadron mate, Flying Officer Richard Stephen Demetriadi (90145) was killed at the age of 21.
The formal award ceremony for William's DFC took place at Buckingham Palace on 3 September 1940. Archive footage shows him with his wife and mother outside the palace. It was the last time they would see him again.
He scored his last 'kill' on 4 September – a Dornier Do.17.
On 6 September 1940, the last day before the squadron was due for a break from operations, William Henry Rhodes-Moorhouse – known as Willie by his squadron mates – while flying P8818 was shot down in a scrap with Messerschmitt Bf.109's over Tunbridge Wells and was killed. His promotion to flight lieutenant was only gazetted on 29 October.
It was a black day for the squadron, Willie had been a popular member and he wasn't the only casualty that day. Three other aircraft were shot down or written off – two of the pilots were wounded, the other killed. By the end of the Battle of Britain 601 Squadron had the bulk of its privileged elite killed or wounded.
Willie's aircraft had hit the ground near High Brooms Viaduct, Southbridge so hard and buried so deeply that the RAF recovery crew left it as unrecoverable. His father-in-law arranged for the site to be excavated and his remains were found nine days later. These were cremated and his ashes scattered over his father's grave at Parnham House.
Flight Lieutenant William Henry Rhodes-Moorhouse's final tally was 5 enemy aircraft destroyed, 4 shared destroyed and 4 probables. He may have had a privileged upbringing but he died for his country at the age of 26 – a year younger than his father before him.
His wife, Amalia having lost her brother and husband during WWII, died in 2003. Linda, who had lost her husband and only child in two world wars, died on 3 December 1973 at the age of 86.
Remembering the Rhodes-Moorhouses
After the end of WWI someone placed a memorial in The Times on the anniversary of William Barnard Rhodes-Moorhouse's death every year. These appear to have stopped in 1940 – the year William Henry Rhodes-Moorhouse died.
Over the years there have been a number of tributes and memorials to the two dead airmen. Below are just some of them:
William Barnard Rhodes-Moorhouse is commemorated on the Lamport War Memorial in Northamptonshire.
William Henry Rhodes-Moorhouse and Philip Henry Bevington Legge are commemorated on the war memorial outside St Merryn Church.
William Henry Rhodes-Moorhouse and Richard Stephen Demetriadi are commemorated in St Martin's Church, Westmeston (close to the Demetriadi home).
Mortham Tower, Linda's home for several years until she died, bears a plaque in memory of son William.
In February 1948, the RAF Benevolent Fund announced that 14 houses being built at Morden, Surrey would be named after 2nd Lieutenant William Barnard Rhodes-Moorhouse. In the end, 26 houses were built, one group was called Trenchard Court the other Rhodes-Moorhouse Court.
Also in 1948, the Hon. Max Aitken, son of the first Baron Beaverbrook and former wartime leader of 601 Squadron, as owner of the trawler LO496, which was refitted in 1944 as MFV 1557, renamed the vessel William Rhodes Moorhouse. Unfortunately, it sank in 1968 but without loss of life.
A parade was held at Beaminster on 3 July 1965 in honour of the first air VC, with a graveside ceremony at Parnham House.
In 1976, the Kent Battle of Britain Museum excavated William Henry Rhodes-Moorhouse's crash site and recovered a number of items including his Hurricane's Merlin engine and his wristwatch.
In 1982 the RAF Museum issued an aero-philatelic cover (RAF B3) commemorating the VC bombing raid, which was flown on the anniversary in Jaguar T Mark 2 XX843, from RAF Laarbruch, over the route that was used.
In 1991, William Barnard Rhodes-Moorhouse's medals were sold and the proceeds used to set up The W B Rhodes-Moorhouse VC Trust (registered charity number 1000845), which provides scholarships through the Air League and charitable donations.
William Henry Rhodes-Moorhouse is commemorated on the Christopher Foxley-Norris Memorial Wall (unveiled by HRH Prince Michael of Kent in July 2005) at The National Memorial to the Few at Capel-le-Ferne (opened on 9 July 1993, by Her Majesty Queen Elizabeth the Queen Mother). It is situated on the white cliffs between Dover and Folkestone – an area known as 'Hellfire Corner' as much of the fighting during the Battle of Britain took place in the skies above.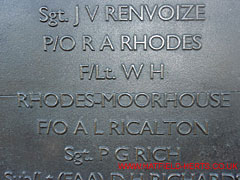 William Henry Rhodes-Moorhouse's name on The Battle of Britain London Monument, which was unveiled by the Prince of Wales on 18 September 2005 to mark the 65th anniversary of the battle. The picture at the top shows part of the sculpture and frieze by Paul Day. This inspiring monument is located on the Victoria Embankment, opposite the London Eye.
In 2010, the second episode of BBC1's 'Dig 1940' featured a section on William Henry Rhodes-Moorhouse.
On 12 November 2010 the Ashcroft Gallery was opened at the Imperial War Museum displaying what was the largest private collection of Victoria Crosses. 2nd Lieutenant William Barnard Rhodes-Moorhouse's VC can be seen on display (in the Sacrifice section), along with his revolver and the fuse pin from the bomb, which was found in his coat pocket.
Monday, 25 April 2011 (ANZAC day), Maori TV channel broadcast a documentary on William Barnard Rhodes-Moorhouse's life as part of their day-long commemorative broadcast. 'Dancing in the Sky', directed by Julian Arahanga, was shown at 22:00.
There is another reason to remember the Rhodes-Moorhouse name, one that many accounts don't mention. William Barnard Rhodes-Moorhouse's observer, who had argued to be able to go with him on his fatal bombing raid, was certain that he would have been killed if he had been allowed to go. He later became a pilot and rose to a senior post in the Royal Air Force (although his role in WWII was controversial). His name was Sholto Douglas, later Lord Douglas of Kirtleside. So, apart from his fighter ace son, one man's bravery led to a bomb that impacted on two world wars. Few, if any, other VC can claim that.
By a curious coincidence, Sholto Douglas had served as observer to another pilot previously – one with a strong Hatfield connection and that was Hereward de Havilland, Geoffrey's younger brother.
Back to: Moorhouse, Rhodes and Rhodes-Moorhouse VC, DFC – Part 1
Back to: Aviation and Aerospace